Landscaping and Land Regeneration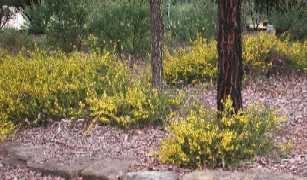 Because of their fast growth, easy establishment from pre-treated seed, adaptability and wide variety of habit shapes and sizes, and their usefulness as a nursery plant, acacias have found favour as a landscaping and rehabilation plant. They will quickly produce a dense cover, and with their shallow root system and litter fall, rapidly effect erosion control on bare soil. In using acacias for large scale replantings, two factors should be considered. Firstly, a number of species will regenerate from seed and will invade nearby native vegetation unless some controls exist. If such controls do not exist, then ideally, only seed from locally indigenous species should be used. If this is not possible, then only seed of species indigenous to the local area should be selected. Secondly, if relatively short lived Acacia species are selected, then seed from other genera should also be sown to provide a continuum of regeneration as the acacias die off.
Rehabilation using Acacia seed might involve the pre-treated of the seed with boiling water and then the spreading by hydro-mulching using a wood pulp binder which also acts as a moisture absorber and retainer as well as a mulch (M. Woodland, University of Newcastle, personal communication).