Introduction to Acacia

The genus Acacia is world-wide and highly diverse with over 1380 species distributed throughout the tropics and into the north and south temperate zones.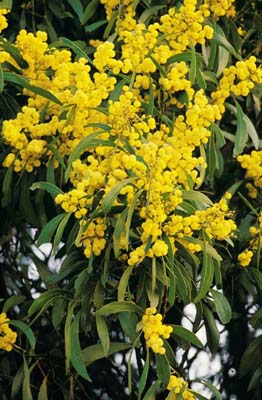 In most areas of Australia wattles are a conspicuous component of the landscape, particularly in springtime when the countryside may be aglow with their hues of yellow blossom. Acacia represents the largest genus of flowering plants in Australia, with over 990 species. Like the eucalypts or 'gum tree' most people can also recognise a wattle, at least when it is in flower.

The name 'acacia' was used for a thorny Egyptian tree; subsequently it was formally named as the genus Acacia. Species of this genus in Australia are commonly referred to as wattles. The use of this name in Australia appears to have originated with the first British settlers who constructed 'wattle and daub' buildings using, not Acacia branches, but rather those of Callicoma serratifolia, then called Black Wattle, which grew in the Sydney area and has Acacia-like flower heads. The term then appears to have been applied to Acacia species generally. The Aborigines called many wattles by a variety of names, many of which have remained as common names, though not all are unique to a particular species.
What is happening to the name Acacia? Molecular and phylogenetic research show that the group consists of several (probably five) genera. At the 2005 International Botanical Congress held in Vienna it was agreed that the type of the genus Acacia would be altered to an Australian species, Acacia penninervis. After much debate the decision was ratified at the 2011 Congress in Melbourne, conserving A. penninervis as the type of the genus. This means that as splits occur the name Acacia is retained for the majority of species in Australia. Only 15 of a total of about 990 species in Australia are affected by a name change. These are thorny and prickly acacias occurring mostly in tropical northern Australia.
Keeping the name Acacia for the largest group of acacias helps avoid confusion in the communication of names (including commercially important species) where the majority of species occur, which is in Australia. There are also practical advantages related to time and money being saved by maintaining the status quo for the majority of collections. The international committee process helps deal with these types of issues, which in this case promotes nomenclatural stability and prevents inconvenient and costly name changes for the majority of taxa known as Acacia.
The 'green and gold' of the wattle are the colours often used to represent Australia. The Golden Wattle Acacia pycnantha, with its sickle-shaped phyllodes and brilliant golden yellow balls of flowers, is the official floral emblem of Australia and features on the national coat-of-arms.

Acacia jonesii Photo by T. Tame
Wattle Day is officially held on the 1 September.

Wattles are often blamed for causing hay fever, however, this is something of a myth. Wattle pollens are not readily distributed by the wind, being relatively large and heavy compared to pollen from wind-pollinated plants like grasses. Relatively little wattle pollen manages to be air borne and wattles depend mostly on insects and other animals for pollination. Allergic reactions could be experienced by the more sensitive, but it is more likely to be the strong scent of some wattles that could cause irritation.
Further reading on New South Wales acacias
Armitage, I. (1977/1978). Acacias of New South Wales. New South Wales Region of the Society for Growing Australian Plants, Sydney.
Auld (1996). Ecology of the Fabaceae in the Sydney region: fire, ants and the soil seedbank. Cunninghamia 4(4): 531-551.
Australian National Herbarium (2012). Wattles - genus Acacia. Australian National Botanic Gardens and Centre for Australian National Biodiversity Research, Canberra.
Beadle, N.C.W. (1976). Students Flora of North Eastern New South Wales. Part III. University of New England, Armidale. (reprinted 1982).
Benson, D. & McDougall, L. (1996). Ecology of Sydney plant species. Part 4: Dicotyledon family Fabaceae. Cunninghamia 4(4): 533-752.
Burbidge, N.T. & Gray, M. (1970). Flora of the Australian Capital Territory. Australian National University Press, Canberra.
Carolin, R.C. & Tindale, M.D. (1994). Flora of the Sydney Region. 4th edn. Reed, Chatswood.
Costermans, L. (1981). Native Trees and Shrubs of South-eastern Australia. Rigby Publishers Ltd, Adelaide.
Cunningham, G.M., Mulham, W.E., Milthorpe, P.L. & Leigh, J.H. (1981). Plants of Western New South Wales. NSW Government Printing Office in association with the Soil Conservation Service of NSW.
Fairley, A. (2004). Seldom Seen. Rare Plants of Greater Sydney. Reed New Holland, Sydney.
Fairley, A. & Moore, P. (1989). Native Plants of the Sydney District. Kangaroo Press in association with The Society for Growing Australian Plants, Sydney.
Fairley, A. & Moore, P. (2010). Native Plants of the Sydney Region. Allen & Unwin, Crows Nest.
Hall, N. & Johnson, L.A.S. (1993). The Names of Acacias of New South Wales with a Guide to Pronunciation of Botanical Names. Royal Botanic Gardens Sydney.
Hitchcock, M. (1991). Wattle. Australian Government Publishing Service (AGPS), Canberra.
Kodela, P.G. & Harden, G.J. (2002). 'Acacia', in G.J. Harden (ed.), Flora of New South Wales Volume 2, revised edn, pp. 381-476. (Royal Botanic Gardens and Domain Trust, Sydney; a University of New South Wales [UNSW] Press book).
Maslin, B.R. (coordinator) (2001). WATTLE Acacias of Australia. CD ROM Publication. Published by Australian Biological Resources Study, Canberra and Department of Conservation and Land Management, Perth.
Orchard, A.E. & Wilson, A.J.G. (eds) (2001). Flora of Australia Volumes 11A & 11B, Mimosaceae, Acacia Parts 1 & 2. Australian Biological Resources Study (ABRS), Canberra, and CSIRO Publishing, Melbourne. Available Online.
Pellow, B.J., Henwood, M.J. & Carolin, R.C. (2009). Flora of the Sydney Region. 5th edn. Sydney University Press, Sydney.
Robinson, L. (1991). Field Guide to the Native Plants of Sydney. Kangaroo Press, Kenthurst.
Simmons, M. (1987). Acacias of Australia Volume 1, revised edn. Nelson Publishers, Melbourne.
Simmons, M. (1988). Acacias of Australia Volume 2. Viking O'Neil, South Yarra; division of Penguin Books.
Tame, T. (1992). Acacias of Southeast Australia. Kangaroo Press, Kenthurst.
| | |
| --- | --- |
| WorldWideWattle: a web information guide on Australian acacias, developed by the Western Australian Shire of Dalwallinu, the Western Australian Department of Conservation and Land Management and the Canberra-based Australian Tree Seed Centre (part of CSIRO Forestry and Forest Products). | Acacia gordonii Photo by T. Tame |