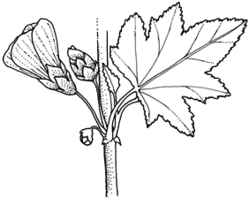 Description: Erect annual or perennial herbs or shrubs with 1–several-armed stellate hairs.
Leaves palmately veined with 5–9 lobes, margins often crenate or toothed; usually long-petioled.
Flowers axillary, solitary or clustered, subtending leaves often smaller and ± unlobed. Epicalyx segments mostly 3 (rarely 4–6), united at least at the base. Calyx tubular, 5-lobed. Petals notched, 2–3 times as long as calyx. Staminal column with many anthers at apex. Ovary 5–16-locular, each loculus 1-ovulate.
Fruit a schizocarp, mericarps arranged in a single whorl, mostly dehiscent; in 1 species mericarps covered by a disc-like expansion of the central axis, with dehiscence apparently by abscission of the disc (circumsciss).
Distribution and occurrence: World: c. 25 species, Mediterranean to eastern Asia. Australia: at least 5 species (1 species endemic), all mainland States.


Text by A. S. Mitchell & E. H. Norris
Taxon concept:
One species in NSW: Lavatera trimestris.