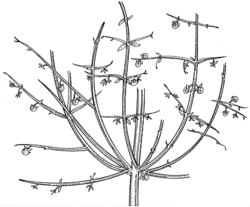 Description: Shrubs or subshrubs.
Leaves decussate, linear or sometimes scale-like, sessile or shortly petiolate.
Flowers 1–3 in a short axillary cymes, zygomorphic. Calyx deeply 5-lobed, persistent in fruit. Corolla tubular; tube villous inside; 2-lipped or unequally 5-lobed; lower lobe larger than others. Stamens 4, exserted; anthers 1-locular by the confluence of lobes, glandular at back. Ovary 4-locular; style exserted.
Fruit a globose succulent drupe; endocarp separating into 4 1-seeded fruitlets.
Distribution and occurrence: World: 3 species, endemic Australia. Australia: all mainland States except Vic.


Text by B. J. Conn
Taxon concept:
| | | |
| --- | --- | --- |
| | Key to the species | |
| 1 | Plants hairy with branched hairs; flowers sessile; calyx longer than corolla | Spartothamnella puberula |
| | Plants glabrous; flowers pedicellate; calyx shorter than corolla | Spartothamnella juncea |