EucaLink
A Web Guide to the Eucalypts
Angophora costata
---
Angophora costata (Gaertn.) Britten, J. Bot. 54: 62 (1916).

Metrosideros apocynifolia Salisb., Prodr. Stirp. 351 (1796).

TYPE: New South Wales, Port Jackson, D. Burton (holo unfound). fide Leach (1986).

Metrosideros costata Gaertn., Fruct. Sem. Pl. 1: 171 (1788).

TYPE: New Holland, J.Banks & D.Solander s.n., 1770, photo in BM, fide Leach (1986).

Angophora lanceolata Cav., Icon. 4: 22 t. 339 (1797).

TYPE: the plate Icon 4: t. 339 (1797) OR TYPE: "prope oppidiem Port Jackson", L. Nee 1793 (holo MA)

Angophora lanceolata var. hispida Cunn. ex A. Gray, U.S. Expl. Exped., Phan. 1: 555 (1854).

TYPE: New South Wales, 'Wollongong and near Sydney', collector unknown (holo GH, fide Leach, 1986).

Melaleuca costata Raeusch., Nomencl. Bot. ed. 3 142 (1797).

nom. nud. fide DC., Prodr. 3: 222 (1828).

Metrosideros splendens Gaertn. ex DC., Prodr. 3: 222 (1828).

nom. nud. fide Leach (1986).
---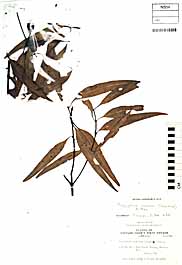 Habit: Tree.
Bark: Bark smooth throughout. Cotyledons suborbicular.
Leaves: Juvenile leaves opposite, hispid with simple hairs and bristle glands, sessile. Intermediate leaves opposite, straight, entire, dull green. Adult leaves opposite. Lateral veins obtuse, closely spaced.
Inflorescences: Conflorescence compound, terminal.
Flowers: Calyx reduced to 4 teeth on hypanthium. Flowers cream.
Fruits: Fruits pedicellate. Disc depressed. Valves enclosed. Seeds regular and flattened, patelliform, smooth, semi-glossy, red. Chaff linear, chaff same colour as seed.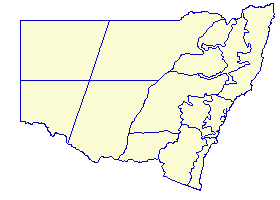 Occurrence: Widely scattered and locally abundant, on deep sandy soils or sandy soils on sandstone; chiefly on the coast from Coffs Harbour to Bodalla and west into the Blue Mtns.
Distribution: N.S.W. N.S.W. regions North Coast, or Central Coast, or South Coast, or Central Tablelands.