EucaLink
A Web Guide to the Eucalypts
Angophora leiocarpa
---
Angophora leiocarpa (L.A.S. Johnson ex G. Leach) K. Thiele & Ladiges, Cladistics 4: 41 (1988).

Angophora costata subsp. leiocarpa L.A.S. Johnson ex G. Leach, Telopea 2 (6): 760 (1986).

TYPE: New South Wales, North Western Slopes: Just S. of Warialda, near High School, Leach 423, 25 Aug 1976 (holo LTB, iso NSW).[not in NSW 2001]
---
Habit: Tree.
Bark: Bark smooth throughout. Cotyledons suborbicular.
Leaves: Juvenile leaves opposite, hispid with simple hairs and bristle glands, sessile. Intermediate leaves opposite, straight, entire, dull green. Adult leaves opposite. Lateral veins obtuse, closely spaced.
Inflorescences: Conflorescence compound, terminal.
Flowers: Calyx reduced to 4 teeth on hypanthium. Flowers cream.
Fruits: Fruits pedicellate. Disc depressed. Valves enclosed. Seeds regular and flattened, patelliform, smooth, semi-glossy, red. Chaff linear, chaff same colour as seed.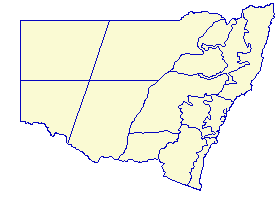 Occurrence: Widely scattered and locally abundant, on deep alluvial sandy soils or sandy soils on sandstone; north from Grafton and Narrabri districts.
Distribution: Qld, or N.S.W. N.S.W. regions North Coast, or North Western Slopes, or North Western Plains.