The Eucalypts
***
Icons
of the
Australian
Bush
EucaLink
A Web Guide to the Eucalypts
Angophora robur
---
Angophora robur L.A.S. Johnson & K.D. Hill, Telopea 4(1): 40 (1990).

TYPE: New South Wales, North Coast: 1.3 km north of Kremnos Creek on Glenreagh-Grafton road, 7 May 1984, K.Hill 787 and L.Johnson (holo NSW).

Eucalyptus robur (L.A.S.Johnson & K.D.Hill) Brooker, Austral. Syst. Bot. 13: 137 (2000).
---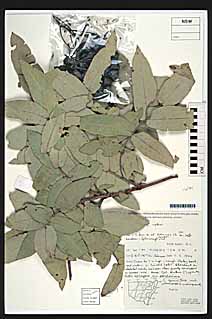 Habit: Tree, Height to 10 m high.
Bark: Bark persistent throughout, shortly fibrous ("peppermint"), grey or pale brown. Cotyledons suborbicular.
Leaves: Juvenile leaves opposite, hispid with simple hairs and bristle glands, sessile. Intermediate leaves opposite, straight, entire, dull green, 10 cm long, 20 mm wide. Adult leaves opposite, broad lanceolate or ovate, not falcate, acute, cordate, dull, green, thick, discolorous, 7–18 cm long, 30–75 mm wide; Petioles 0–1 mm long. Lateral veins obtuse, closely spaced.
Inflorescences: Conflorescence compound, terminal; regular. Peduncles 15–35 mm long. Pedicels 7–15 mm long.
Flowers: Buds globose, not glaucous or pruinose, 10 mm long, 10 mm diam. Calyx reduced to 4 teeth on hypanthium. Calyptra patelliform, narrower than hypanthium. Hypanthium ribbed. Flowers cream.
Fruits: Fruits ovoid or campanulate, pedicellate, 12–16 mm long, 12–16 mm diam. Disc flat. Valves enclosed. Seeds regular and flattened, patelliform, smooth, semi-glossy, red. Chaff linear, chaff same colour as seed.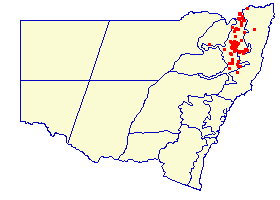 Occurrence: Locally frequent but restricted, sandy soils on sandstone from northwest of Coffs Harbour to northwest of Grafton.
Distribution: N.S.W. N.S.W. regions North Coast.