The Eucalypts
***
Icons
of the
Australian
Bush
EucaLink
A Web Guide to the Eucalypts
Angophora woodsiana
---
Angophora woodsiana Bailey, Proc. Linn. Soc. New South Wales 6: 143 (1882).

TYPE: Queensland, Eight Mile Plain, Bailey (holo BRI).

Angophora intermedia var. woodsiana (Bailey) Bailey, Queensland Fl. 2: 605 (1900).

Eucalyptus woodsiana (F.M.Bailey) Brooker, Austral. Syst. Bot. 13: 137 (2000).
---
Habit: Tree.
Bark: Bark persistent throughout, shortly fibrous ("peppermint"), grey or pale brown. Cotyledons suborbicular.
Leaves: Juvenile leaves opposite, hispid with simple hairs and bristle glands, sessile. Intermediate leaves opposite, straight, entire, dull green. Adult leaves opposite. Lateral veins obtuse, closely spaced.
Inflorescences: Conflorescence compound, terminal.
Flowers: Calyx reduced to 4 teeth on hypanthium. Flowers cream.
Fruits: Fruits pedicellate. Disc depressed. Valves enclosed. Seeds regular and flattened, patelliform, smooth, semi-glossy, red. Chaff linear, chaff same colour as seed.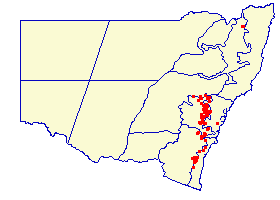 Occurrence: Widely scattered and locally abundant, usually on sandy soils on sandstone; north from Coffs Harbour.
Distribution: Qld, or N.S.W. N.S.W. regions North Coast.