The Eucalypts
***
Icons
of the
Australian
Bush
EucaLink
A Web Guide to the Eucalypts
Eucalyptus aggregata
---
Eucalyptus aggregata Deane & Maiden, Proc. Linn. Soc. New South Wales 24: 614 plate 44 (1899).

TYPE: New South Wales, Wallerawang, H. Deane, Oct 1886 (lecto NSW, 2 sheets, here designated). Maiden (C.R. 3: 100) referred to one of his collections from Wallerawang as 'the Type', although the relevant specimen was not cited in the protologue. This does, however,indicate that he considered this the Type locality, and in order to validate Maiden's concept we here designate the single collection from Wallerawang cited in the protologue as the lectotype. The following localities and collections are cited: 'Wallerawang (H.D.), Rydal (J.H.M.); Jenolan Caves (W. Blakely); near Orange, on the Cadia-road,... (R.H. Cambage); Rockely and Burraga (R.H.C.)... Nimbo Station, head of Queanbeyan River; also Crookwell (H.D.) and Fagan's Creek, Braidwood district (Mr. W. Baeuerlen, communicated by Mr R.T. Baker).'
---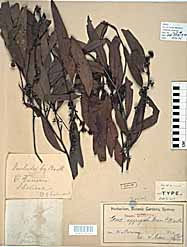 Habit: Tree, Height to 18 m high.
Bark: Bark persistent throughout, fibrous-flaky with whitish patches ("box"), grey to grey-black. Branchlets green. Pith glands absent; Bark glands present. Cotyledons obreniform (bilobed).
Leaves: Intermediate leaves opposite or disjunct late, elliptic to ovate to broad lanceolate, straight, entire, dull green, petiolate, 10 cm long, 3 mm wide. Adult leaves disjunct, narrow lanceolate to lanceolate, not falcate, rounded, basally tapered, glossy, green, thick, concolorous, 5–12 cm long, 1–2 mm wide; Petioles 4–10 mm long. Lateral veins obscure, very acute or acute, moderately spaced.
Inflorescences: Conflorescence simple, axillary; Umbellasters 7-flowered, regular. Peduncles terete, 3–4 mm long. Pedicels terete, 0–2 mm long.
Flowers: Buds ovoid, not glaucous or pruinose, 3–5 mm long, 2–3 mm diam. Calyx calyptrate; shedding early. Calyptra hemispherical or conical, 1 times as long as hypanthium or 2 times as long as hypanthium, as wide as hypanthium; smooth. Hypanthium smooth. Flowers white, or cream.
Fruits: Fruits conical to hemispherical, pedicellate, 3–4 locular, 2–4 mm long, 3–5 mm diam. Disc raised. Valves exserted. Chaff dimorphic, linear and cuboid, chaff same colour as seed.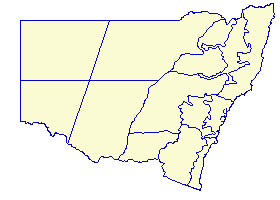 Occurrence: Locally frequent; grassy woodlands on alluvial soils along creeks on broad; cold flats.
Distribution: N.S.W., or Vic. N.S.W. regions Central Tablelands, or Southern Tablelands.