The Eucalypts
***
Icons
of the
Australian
Bush
EucaLink
A Web Guide to the Eucalypts
Eucalyptus brownii
---
Eucalyptus brownii Maiden & Cambage, J. & Proc. Roy. Soc. New South Wales 47: 215 (1914).

TYPE: Queensland, Reid River, Townsville, N. Daley 8, Dec 1912 (lecto NSW (2 sheets), here designated). Daley made several collections from different trees. This collection is reasonably complete, and bears a "Type" label affixed by Maiden. Cited as " Type from Reid River near Townsville. (N. Daley, Sept. and Dec., 1912)."

Eucalyptus bicolor var. parviflora F. Muell. ex Benth., Fl. Austral. 3: 215 (1867).

TYPE: Queensland, Burdekin river, F. Mueller, 1857 (holo K, iso NSW).
---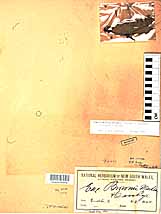 Habit: Tree.
Bark: Bark persistent on trunk and larger branches, fibrous-flaky with whitish patches ("box"), pale grey and grey (patchy), grey or grey-brown. Pith glands present; Bark glands present. Cotyledons obreniform (bilobed).
Leaves: Intermediate leaves disjunct early, lanceolate to ovate, straight, entire, dull grey green, petiolate. Adult leaves disjunct, narrow lanceolate or lanceolate, not falcate, acuminate or acute, basally tapered, glossy, green, thick, concolorous. Lateral veins prominent, very acute or acute.
Inflorescences: Conflorescence compound, terminal or axillary; Umbellasters 7-flowered to 11-flowered. Peduncles terete or narrowly flattened or angular (to 3mm wide).
Flowers: Buds ovoid, not glaucous or pruinose. Calyx calyptrate; shedding early. Calyptra hemispherical or conical, 1 times as long as hypanthium, as wide as hypanthium; smooth. Hypanthium smooth. Flowers white, or cream.
Fruits: Fruits conical or campanulate. Disc flat. Valves enclosed. Chaff dimorphic, linear and cuboid.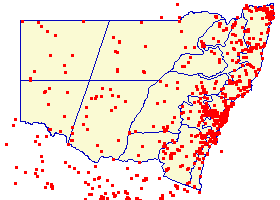 Distribution: Qld.