The Eucalypts
***
Icons
of the
Australian
Bush
EucaLink
A Web Guide to the Eucalypts
Eucalyptus buprestium
---
Eucalyptus buprestium F. Muell., Fragm. 3: 57 (1862).

TYPE: Western Australia, S of Kojonerup, G. Maxwell (syn MEL), near Helena Peak [?Ellen Peak], G. Maxwell (syn MEL), near Salt R., G. Maxwell (syn MEL). Cited as "In planitiebus arenosis austrum versus a Kojoneerup; ad montem Helen's Peak; ad flumina Salt River et Palinup River Novae Hollandiae austro-occidentalis. G. Maxw."
---
Habit: Mallee.
Bark: Bark smooth throughout, grey or grey-brown. Pith glands present; Bark glands present. Cotyledons reniform.
Leaves: Intermediate leaves disjunct early, lanceolate, falcate, entire, dull grey green, sessile. Adult leaves disjunct, narrow lanceolate, falcate or not falcate, acute, basally tapered, dull, grey-green, thick, concolorous. Lateral veins obscure, acute.
Inflorescences: Conflorescence simple, axillary; Umbellasters 7-flowered to 11-flowered. Peduncles narrowly flattened or angular (to 3mm wide).
Flowers: Buds obovoid or clavate, not glaucous or pruinose. Calyx calyptrate; persisting to anthesis. Calyptra hemispherical, 1 times as long as hypanthium, narrower than hypanthium or as wide as hypanthium; smooth. Hypanthium smooth. Flowers cream, or yellow.
Fruits: Fruits globose. Disc depressed. Valves enclosed. Chaff cuboid.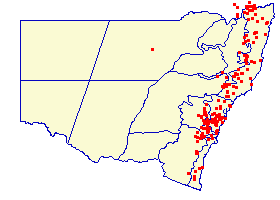 Distribution: W.A.