EucaLink
A Web Guide to the Eucalypts
Eucalyptus camaldulensis
---
Eucalyptus camaldulensis Dehnh., Cat. Pl. Hort. Camald. ed. 2 20 (1832).

TYPE: cult. Horti Camaldulensis, Naples, Italy, F. Dehnhardt (holo W).

Eucalyptus acuminata Hook., in Mitchell, J. Trop. Austral. 390 (1848).

TYPE: Queensland, Mooni Ck, T.L. Mitchell 435, 20 Nov 1846 (holo CGE, iso K). No type was cited.

Eucalyptus longirostris F. Muell. ex Miq., Ned. Kruidk. Arch. 4: 125 (1856).

TYPE: ?????? Cited as "Mount Burke-range, Lofty-range, Beagle-range, Salt-creek."

Eucalyptus longirostris var. brevirostris F. Muell. ex Miq., Ned. Kruidk. Arch. 4: 125 (1856).

TYPE: South Australia, Glenelg River, F. Mueller (iso K)

Eucalyptus rostrata Schldl., Linnaea 20: 655 (1847).

TYPE: Sudaustralien, Montibus Barosae, H. Behr, Marz 16. (holo HAL). Cited as "An den Ufern der Bache und Flusse. (White Gum der Kolonisten.) Ein machtiger Baum mit weisser Rinde"

Eucalyptus rostrata var. borealis R. Baker & H.G. Smith, Res. Eucalypts 75 (1902).

TYPE: New South Wales, Nyngan, W. Baeuerlen, Nov 1899 (syn NSW). No type was cited.

Eucalyptus subulata A. Gray, U.S. Expl. Exped., Phan. (1854).

TYPE: a specimen of uncertain origin, U.S. Nat. Herb. no. 25456.

Eucalyptus tereticornis var. brevirostris (F. Muell. ex Miq.) Benth., Fl. Austral. 3: 241 (1867).

nom. nud.

Eucalyptus tereticornis var. brevirostris Benth., Fl. Austral. 3: 242 (1867).

nom. nud. in nota
---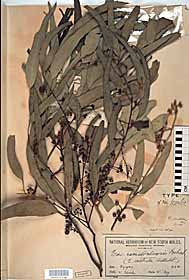 Habit: Tree, Height to 30 m high (occasionally taller).
Bark: Bark smooth throughout or persistent on lower trunk (rarely), white or grey to red-brown, shedding in short ribbons or shedding in large plates or flakes. Branchlets green. Pith glands absent; Bark glands absent. Cotyledons obreniform (bilobed).
Leaves: Intermediate leaves disjunct early, broad lanceolate to ovate, straight, entire, dull grey green, petiolate, 26 cm long, 8 mm wide. Adult leaves disjunct, narrow lanceolate or lanceolate, not falcate, rounded, basally tapered, dull, green or grey-green, thick, concolorous, 8–30 cm long, 1–2.5 mm wide; Petioles narrowly flattened or channelled, Petioles 12–15 mm long. Lateral veins prominent, acute, moderately spaced.
Inflorescences: Conflorescence simple, axillary; Umbellasters 7-flowered to 11-flowered, regular. Peduncles terete, 7–25 mm long. Pedicels terete, 5–12 mm long.
Flowers: Buds ovoid, not glaucous or pruinose, 6–11 mm long, 3–6 mm diam. Calyx calyptrate; shedding early. Calyptra hemispherical and rostrate, 3 times as long as hypanthium, as wide as hypanthium; smooth. Hypanthium smooth. Flowers cream.
Fruits: Fruits globose or ovoid, pedicellate, 3–5 locular, 5–7 mm long, 5–7 mm diam. Disc raised. Valves exserted. Chaff dimorphic, linear and cuboid, chaff same colour as seed.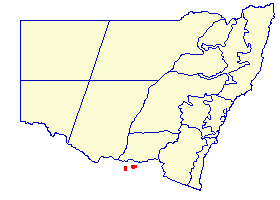 Occurrence: Community dominant; grassy wodland or forest on deep rich alluvial soils adjacent to large permanent water bodies.
Distribution: S.A., or Qld, or N.S.W., or Vic. N.S.W. regions North Coast, or North Western Slopes, or Central Western Slopes, or South Western Slopes, or North Western Plains, or South Western Plains, or North Far Western Plains, or South Far Western Plains.