The Eucalypts
***
Icons
of the
Australian
Bush
EucaLink
A Web Guide to the Eucalypts
Eucalyptus cambageana
---
Eucalyptus cambageana Maiden, J. & Proc. Roy. Soc. New South Wales 47: 91 (1913).

TYPE: Queensland, Mirtna Station, Charters Towers, Z. Clark, Dec 1912 (lecto NSW; here designated). This specimen is the more complete of those cited. Cited as "Type from Mirtna Station, Charters Towers, Queensland (Miss Zara Clark, January and December 1912.)"
---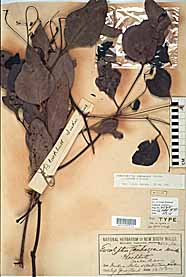 Habit: Tree.
Bark: Bark persistent on lower trunk, tessellated or fibrous-flaky with whitish patches ("box"), grey-black, grey or black. Pith glands present; Bark glands present. Cotyledons obreniform (bilobed).
Leaves: Intermediate leaves disjunct early, lanceolate to ovate, straight, entire, dull grey green, petiolate. Adult leaves disjunct, narrow lanceolate or lanceolate, falcate, acute or obtuse, oblique or basally tapered, dull, grey-green, thick, concolorous; Petioles narrowly flattened or channelled. Lateral veins prominent, acute.
Inflorescences: Conflorescence compound, terminal; Umbellasters 3-flowered to 7-flowered. Peduncles quadrangular.
Flowers: Buds obovoid or clavate, not glaucous or pruinose. Calyx calyptrate; shedding early. Calyptra hemispherical or conical, 1 times as long as hypanthium, as wide as hypanthium; smooth. Hypanthium smooth. Flowers white, or cream.
Fruits: Fruits conical or pyriform. Disc depressed. Valves enclosed. Chaff dimorphic, linear and cuboid.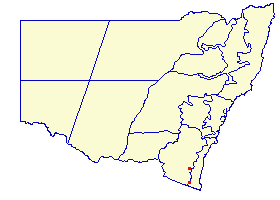 Distribution: Qld.