The Eucalypts
***
Icons
of the
Australian
Bush
EucaLink
A Web Guide to the Eucalypts
Eucalyptus cornuta
---
Eucalyptus cornuta Labill., Voy. Rech. Perouse 1: 4 (1800).

TYPE: Western Australia, 'Nov. Holl.', Observatory Island, J. de Labillardiere, 13 Dec 1792 (holo FI, iso BM, G, K, LE, LINN, MEL).

Eucalyptus macrocera Turcz., Bull. Soc. Nat. Mosc. 22(2): 20 (1849).

TYPE: Western Australia, Cape Riche, J. Drummond 4: 67, 1848 (holo LE, iso BM, CGE, E, G, K, NSW, W).

Eucalyptus x misilis Brooker & Hopper, Nuytsia 14(3): 332 (2002).

TYPE: Western Australia, Cheyne Beach, 34°53'S, 118°23'E, M.I.H. Brooker & S.D. Hopper (holo PERTH, iso AD, CANB, MEL, NSW)
---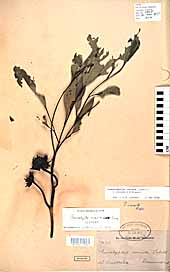 Habit: Tree or Mallee.
Bark: Bark persistent on lower trunk, fibrous-flaky with whitish patches ("box") or stringy, red-brown, grey or black. Pith glands present; Bark glands absent. Cotyledons bisected.
Leaves: Intermediate leaves disjunct early, elliptic to ovate, straight, entire, dull grey green, petiolate. Adult leaves disjunct, lanceolate or broad lanceolate, not falcate, obtuse, basally tapered, glossy, green, thick, concolorous; Petioles narrowly flattened or channelled. Lateral veins prominent, acute.
Inflorescences: Conflorescence simple, axillary; Umbellasters more than 11 flowered. Peduncles broadly flattened.
Flowers: Buds rostrate, not glaucous or pruinose. Calyx calyptrate; shedding early. Calyptra elongate acute or rostrate, 3 times as long as hypanthium, as wide as hypanthium; smooth. Hypanthium smooth. Flowers white, or cream.
Fruits: Fruits cylindrical or hemispherical or campanulate. Disc flat or raised. Valves exserted. Chaff dimorphic, linear and cuboid.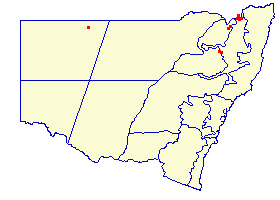 Distribution: W.A.