The Eucalypts
***
Icons
of the
Australian
Bush
EucaLink
A Web Guide to the Eucalypts
Eucalyptus cretata
---
Eucalyptus cretata P. Lang & Brooker, J. Adelaide Bot. Gard. 13: 71 (1990).

TYPE: South Australia, Eyre Peninsula, E side of Carappee Hill, 1.5 km N along track from junction with road to Darke Peak, at base of hill, P.J. Lang 1832, 28 Dec 1989 (holo AD, iso AD, CANB, CBG, DNA, K, MEL, NSW, PERTH)

Eucalyptus darkeana , ms ().

TYPE:
---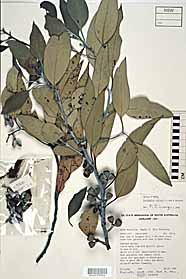 Habit: Tree or Mallee.
Bark: Bark smooth throughout, white or grey. Pith glands present; Bark glands present. Cotyledons obreniform (bilobed).
Leaves: Intermediate leaves disjunct early, lanceolate to ovate, straight, entire, dull grey green, petiolate. Adult leaves disjunct, lanceolate or broad lanceolate, not falcate, rounded or emarginate, basally tapered, dull, glaucous, coriaceous, concolorous. Lateral veins obscure, acute.
Inflorescences: Conflorescence simple, axillary; Umbellasters 7-flowered. Peduncles terete.
Flowers: Buds ovoid, glaucous. Calyx calyptrate; shedding early. Calyptra conical, 1 times as long as hypanthium or 2 times as long as hypanthium, as wide as hypanthium; striate, or ribbed. Hypanthium smooth. Flowers white, or cream.
Fruits: Fruits hemispherical. Disc depressed. Valves exserted. Seeds red. Chaff dimorphic, linear and cuboid, chaff same colour as seed.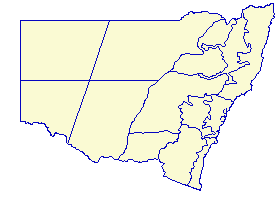 Distribution: S.A.