The Eucalypts
***
Icons
of the
Australian
Bush
EucaLink
A Web Guide to the Eucalypts
Eucalyptus diversicolor
---
Eucalyptus diversicolor F. Muell., Fragm. 3: 131 (1863).

TYPE: Western Australia, Wilson's Inlet, A. Oldfield 788 (holo MEL, iso CGE, E, K). These may alternatively represent several Oldfield collections. Cited as "In Australiae regionibus depressioribus quam Maxime austro occidentalibus, ubi Blue Glum-tree vocatur. A. Oldfield."

Eucalyptus colossea F. Muell., Fragm. 7: 42 (1869).

TYPE: ? MEL. None cited.
---
Habit: Tree, Height to 70 m high.
Bark: Bark smooth throughout, white or grey or salmon or orange or yellow, shedding in short ribbons or shedding in small polygonal flakes. Pith glands present; Bark glands present. Cotyledons obreniform (bilobed).
Leaves: Intermediate leaves disjunct late, lanceolate to elliptic, straight, entire, glossy green, petiolate. Adult leaves disjunct, broad lanceolate, falcate, acute, oblique or basally tapered, dull, green, thick, discolorous; Petioles narrowly flattened or channelled. Lateral veins prominent or obscure, acute or obtuse.
Inflorescences: Conflorescence simple, axillary; Umbellasters 7-flowered. Peduncles narrowly flattened or angular (to 3mm wide).
Flowers: Buds clavate, not glaucous or pruinose. Calyx calyptrate; shedding early. Calyptra conical, 1 times as long as hypanthium, as wide as hypanthium; smooth. Hypanthium smooth. Flowers white, or cream.
Fruits: Fruits globose or ovoid, pedicellate. Disc depressed. Valves enclosed or rim-level. Chaff dimorphic, linear and cuboid.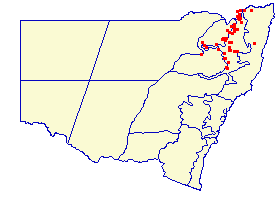 Distribution: W.A.