The Eucalypts
***
Icons
of the
Australian
Bush
EucaLink
A Web Guide to the Eucalypts
Eucalyptus diversifolia
---
Eucalyptus diversifolia Bonpl., Pl. Jard. Malm. 35 (1814).

TYPE: cult. Malmaison (syn: P ?). No type was cited. Bonpland recorded that the seeds were collected by Baudin's expedition, and he discussed the nature of the plant in cultivation. Material collected by Bonpland from the Malmaison gardens is accepted as the type.

Eucalyptus santalifolia F. Muell., Trans. Victorian Inst. 1: 35 (1855).

TYPE: Cited as "In the Mallee scrub on the Murray River, on St. Vincent's and Spencer's Gulfs." Lecto required from MEL.

Eucalyptus cuspidata Tausch ex Maiden, Crit. Revis. Eucalyptus 1: 200 (1905).

nom. nud., in syn

Eucalyptus firma F. Muell. ex Miq., Ned. Kruidk. Arch. 4: 133 (1856).

nom. nud. in syn.
---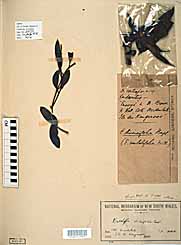 Habit: Mallee.
Bark: Cotyledons reniform.
Flowers: Calyx calyptrate; persisting to anthesis.
Fruits: Chaff cuboid.
Distribution: W.A., or S.A., or Vic.