The Eucalypts
***
Icons
of the
Australian
Bush
EucaLink
A Web Guide to the Eucalypts
Eucalyptus effusa
---
Eucalyptus effusa Brooker, Nuytsia 2(2): 108 fig. 5 (1976).

TYPE: Western Australia, 112 km E Of Norseman by road towards Balladonia (32º02' S, 122º57' E), G.M. Chippendale 157, 12 Mar 1967 (holo FRI, iso NSW, MEL, PERTH).
---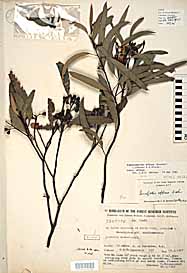 Habit: Mallee.
Bark: Bark persistent on full trunk, shortly fibrous ("peppermint") or stringy, grey, grey or grey-brown. Pith glands present; Bark glands absent. Cotyledons bisected.
Leaves: Intermediate leaves disjunct early, elliptic to ovate, straight, entire, dull grey green, petiolate. Adult leaves disjunct, lanceolate, not falcate, acuminate, basally tapered, glossy, green, thin, concolorous. Lateral veins obscure, acute.
Inflorescences: Conflorescence simple, axillary; Umbellasters 7-flowered. Peduncles narrowly flattened or angular (to 3mm wide).
Flowers: Buds cylindrical or fusiform, not glaucous or pruinose. Calyx calyptrate; shedding early. Calyptra conical, 3 times as long as hypanthium, as wide as hypanthium; smooth. Hypanthium smooth. Flowers white, or cream.
Fruits: Fruits hemispherical or conical. Disc depressed. Valves rim-level or exserted. Chaff dimorphic, linear and cuboid.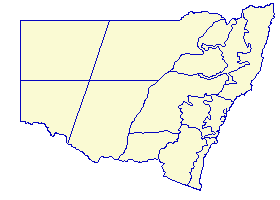 Distribution: W.A.