The Eucalypts
***
Icons
of the
Australian
Bush
EucaLink
A Web Guide to the Eucalypts
Eucalyptus fasciculosa
---
Eucalyptus fasciculosa F. Muell., Trans. Victorian Inst. 1: 34 (1855).

TYPE: South Australia, Bugle Range (between Mount Barker and Strathalbyn), F. Mueller MEL 10390, Aug 1850 (lecto MEL, fide Willis 1967). Cited as "On barren ridges along St. Vincent's Gulf, on the Gawler River, in the Mount Lofty Ranges and Bugle Ranges, and on Encounter Bay."

Eucalyptus paniculata var. fasciculosa (F. Muell.) Benth., Fl. Austral. 3: 212 (1867).
---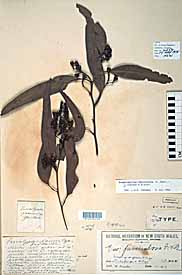 Habit: Tree.
Bark: Bark smooth throughout or persistent on lower trunk or persistent on full trunk, fibrous-flaky with whitish patches ("box"), grey or grey-brown, grey-brown or brown. Pith glands present; Bark glands present. Cotyledons obreniform (bilobed).
Leaves: Intermediate leaves disjunct early, lanceolate to ovate, straight, entire, dull grey green, petiolate. Adult leaves disjunct, lanceolate, falcate, acute or obtuse or rounded, oblique or basally tapered, dull, grey-green, thick, concolorous. Lateral veins prominent or obscure, acute or obtuse.
Inflorescences: Conflorescence compound, terminal or axillary; Umbellasters 7-flowered. Peduncles terete.
Flowers: Buds ovoid or clavate or fusiform, not glaucous or pruinose. Calyx calyptrate; shedding early. Calyptra conical, 1 times as long as hypanthium, narrower than hypanthium; smooth. Hypanthium smooth. Flowers white, or cream.
Fruits: Fruits ovoid. Disc depressed. Valves enclosed. Chaff dimorphic, linear and cuboid.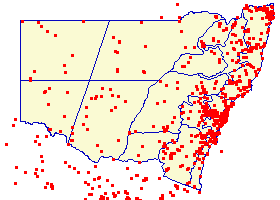 Distribution: S.A., or Vic.