The Eucalypts
***
Icons
of the
Australian
Bush
EucaLink
A Web Guide to the Eucalypts
Eucalyptus fitzgeraldii
---
Eucalyptus fitzgeraldii Blakely, Key Eucalypts 239 (1934).

TYPE: Western Australia, between Tabletop Mtn. & Artesian Range, W.V. Fitzgerald, Aug 1905 (holo NSW 33862). Cited as "W.A. - Between Tabletop Mountain and Artesian Range; near Charnley River, West Kimberley (W.V. Fitzgerald)".
---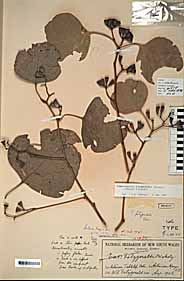 Habit: Tree.
Bark: Bark persistent throughout, fibrous-flaky with whitish patches ("box"), grey, grey or grey-brown. Pith glands present; Bark glands present. Cotyledons obreniform (bilobed).
Leaves: Intermediate leaves disjunct early, lanceolate to ovate, straight, entire, dull grey green, petiolate. Adult leaves disjunct, ovate or suborbiculate or orbiculate, not falcate, rounded or retuse, basally rounded or basally attenuate, dull, grey-green, thin, concolorous. Lateral veins prominent, acute or obtuse.
Inflorescences: Conflorescence compound, terminal or axillary; Umbellasters 3-flowered to 7-flowered. Peduncles terete.
Flowers: Buds pruinose. Calyx calyptrate; shedding early. Calyptra smooth. Hypanthium smooth. Flowers white, or cream.
Fruits: Fruits cylindrical or urceolate or campanulate. Disc depressed. Valves enclosed. Chaff dimorphic, linear and cuboid.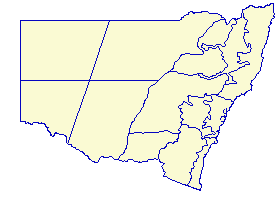 Distribution: W.A.