EucaLink
A Web Guide to the Eucalypts
Eucalyptus gracilis
---
Eucalyptus gracilis F. Muell., Trans. Victorian Inst. 1: 35 (1855).

TYPE: South Australia, Murray Scrub, F. Mueller MEL 10391, 12.1848 (lecto MEL, isolecto G, K, NSW, fide Willis 1967). Cited as "In the desert on the Murray River, where it forms the Mallee Scrub together with E. dumosa, santalifolia and other species."

Eucalyptus calycogona var. gracilis (F. Muell.) Maiden, Proc. Linn. Soc. New South Wales 27: 223 (1902).

Eucalyptus gracilis var. breviflora Benth., Fl. Austral. 3: 211 (1867).

TYPE: Murray and Darling desert, F. Mueller (lecto K, here designated). Cited as "Darling and Murray desert, also F. Mueller's Spencer's Gulf specimens, which being in fruit only are somewhat doubtful." This is the single specimen located by Chippendale (1974), and is hence designated the Lectotype.

Eucalyptus gracilis var. erecta Blakely, Key Eucalypts 266 (1934).

TYPE: South Australia, Memory Cove, Port Lincoln, J.H. Maiden, Jan 1907 (holo NSW, iso AD, BM, K, PERTH). Cited as "S.A. - Memory Cove, Port Lincoln, the type."

Eucalyptus gracilis var. viminea Blakely, Key Eucalypts 266 (1934).

TYPE: New South Wales, near Griffith, W.F. Blakely & D.W.C. Shiress, Aug 1922 (holo NSW)
---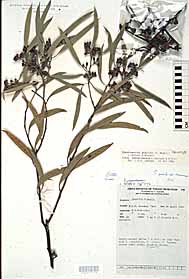 Habit: Tree or Mallee, Height to 8 m high (occasionally 15).
Bark: Bark persistent on lower trunk, fibrous-flaky with whitish patches ("box"), grey, glossy, white or grey (above), shedding in short ribbons. Branchlets green. Pith glands absent; Bark glands absent. Cotyledons bisected.
Leaves: Intermediate leaves disjunct early, lanceolate, straight, entire, glaucous, petiolate, 6 cm long, 1 mm wide. Adult leaves disjunct, narrow lanceolate, not falcate, acute, basally tapered, glossy, green, thick, concolorous, 5–8 cm long, 0.8–1.5 mm wide; Petioles 7–14 mm long. Lateral veins obscure, very acute or acute, moderately spaced to widely spaced.
Inflorescences: Conflorescence simple, axillary; Umbellasters 7-flowered, regular. Peduncles quadrangular, 5–10 mm long. Pedicels terete, 2–5 mm long.
Flowers: Buds clavate, not glaucous or pruinose, 4–6 mm long, 3–4 mm diam. Calyx calyptrate; shedding early. Calyptra hemispherical, 1 times as long as hypanthium, narrower than hypanthium or wider than hypanthium; smooth. Hypanthium smooth. Flowers white, or cream.
Fruits: Fruits ovoid or urceolate, pedicellate, 3–4 locular, 4–7 mm long, 3–5 mm diam. Disc depressed. Valves enclosed. Chaff dimorphic, linear and cuboid, chaff same colour as seed.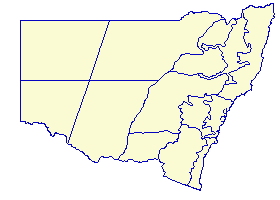 Occurrence: Locally frequent; mallee shrubland on red aeolian sands.
Distribution: W.A., or S.A., or N.S.W., or Vic. N.S.W. regions Central Western Slopes, or South Western Plains, or South Far Western Plains.