The Eucalypts
***
Icons
of the
Australian
Bush
EucaLink
A Web Guide to the Eucalypts
Eucalyptus griffithsii
---
Eucalyptus griffithsii Maiden, J. Nat. Hist. Sci. Soc. Western Australia 3: 177 (1911).

TYPE: Western Australia, Kalgoorlie, J.H. Maiden, Sep 1909 (holo NSW 47924, iso K, PERTH). Cited as "The type comes from Kalgoorlie, where, as a large tree, it is now scarce, because of the great demand for timber of every kind for the mines and for ordinary domestic purposes all over the Eastern Goldfields."

Eucalyptus griffithsii var. angustiuscula Blakely, Key Eucalypts 105 (1934).

TYPE: Western Australia, Kalgoorlie, A. Meebold, Jun 1933 (lecto NSW; here designated). Although Blakely cited two localities, he gave details of collector for this one only, and this was also the specimen labelled "Type" by Blakely. Cited as "W.A. - Kalgoorlie, A. Meebold, June, 1933; Coolgardie."
---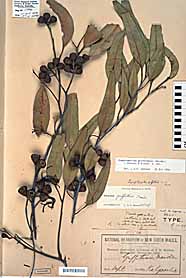 Habit: Tree or Mallee.
Bark: Bark smooth throughout, white or grey or red-brown. Pith glands present; Bark glands present. Cotyledons obreniform (bilobed).
Leaves: Intermediate leaves disjunct early, lanceolate to ovate, straight, entire, dull grey green, petiolate. Adult leaves disjunct, lanceolate, falcate, acute, basally tapered, glossy, green or grey-green, thick, concolorous; Petioles narrowly flattened or channelled. Lateral veins obscure, acute.
Inflorescences: Conflorescence simple, axillary; Umbellasters 3-flowered. Peduncles narrowly flattened or angular (to 3mm wide).
Flowers: Buds clavate, not glaucous or pruinose. Calyx calyptrate; shedding early. Calyptra hemispherical, 1 times as long as hypanthium, wider than hypanthium; corrugated. Hypanthium ribbed. Flowers white.
Fruits: Fruits campanulate. Disc depressed. Valves exserted. Chaff dimorphic, linear and cuboid.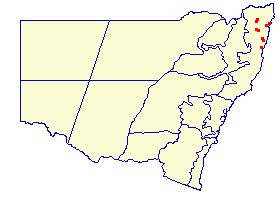 Distribution: W.A.