EucaLink
A Web Guide to the Eucalypts
Eucalyptus intertexta
---
Eucalyptus intertexta R. Baker, Proc. Linn. Soc. New South Wales 25: 308 (1900).

TYPE: New South Wales, Nyngan, W. Baeuerlen, Nov 1899 (lecto NSW, here designated). Cited as "Hab - Dubbo to the Darling River ("Gum"; W. Baeuerlen); Nymagee, Condobolin ("Collabah"); Mt. Hope ("Yellow Jacket and "Gum"); Cobar ("Coolabah Gum"); Drysdale ("Coolabah"); Bobadah,.... For these localities I am indebted to Mr R.H. Cambage,...." R.T. Baker's Types were in the herbarium of the Museum of Applied Arts & Sciences, which is now held by NSW. No specimens corresponding to the cited localities are in this collection, so the specimens above is selected as the lectotype. This specimen is apparently a part of the Baeuerlen collection passed on to NSW by Baker.

Eucalyptus intertexta var. diminuta Blakely, Key Eucalypts 169 (1934).

TYPE: Western Australia, Mt. Cooper, Cavenagh Range, R. Helms, 3 Jul 1891 (holo NSW)

Eucalyptus intertexta var. fruticosa Blakely & Jacobs, in Blakely, Key Eucalypts 168 (1934).

TYPE: Northern Territory, White Range Gold field, Macdonnell Ranges, M.R. Jacobs 178, 14 Aug 1933 (lecto NSW, here designated). Cited as "'Hill tops and slopes of the MacDonnell Ranges, both to the east and west of Alice Springs. Sometimes found in creek beds, White Range Gold field, on quartzitic hills, No. 178; creek beds White Range, No. 179.' (Dr. M.R. Jacobs, August, 1933.)" Although Blakely cited two types, he clearly labelled this specimen "Type" and annotated the sheet cover with the number of this taxon in his "Key to the Eucalypts", indicating that he considered this specimen to be the typical representative of this taxon.
---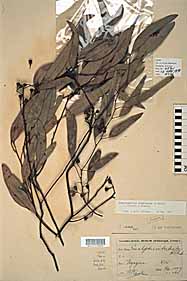 Habit: Tree, Height to 30 m high.
Bark: Bark persistent on lower trunk or persistent on full trunk (often irregular), fibrous-flaky with whitish patches ("box"), grey to red-brown, white to grey to red-brown (above), shedding in short ribbons. Branchlets green. Pith glands absent; Bark glands absent. Cotyledons obreniform (bilobed).
Leaves: Intermediate leaves disjunct early, broad lanceolate to ovate, straight, entire, dull grey green to glaucous, petiolate, 12 cm long, 5 mm wide. Adult leaves disjunct, narrow lanceolate to lanceolate, not falcate, acute, basally tapered, dull, grey-green, thick, concolorous, 7–13 cm long, 1–2.2 mm wide; Petioles 5–15 mm long. Lateral veins obscure, acute, moderately spaced.
Inflorescences: Conflorescence compound to simple, terminal to axillary; Umbellasters 7-flowered, regular. Peduncles terete, 5–16 mm long. Pedicels terete, 3–9 mm long.
Flowers: Buds ovoid or clavate, not glaucous or pruinose, 6–8 mm long, 3–4 mm diam. Calyx calyptrate; shedding early. Calyptra conical, 1 times as long as hypanthium, as wide as hypanthium; smooth. Hypanthium smooth. Flowers white, or cream.
Fruits: Fruits cylindrical or ovoid or hemispherical, pedicellate, 4–5 locular, 4–8 mm long, 4–7 mm diam. Disc depressed. Valves enclosed or rim-level. Chaff dimorphic, linear and cuboid, chaff same colour as seed.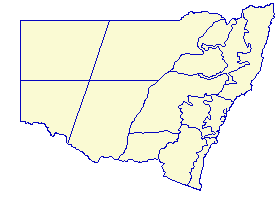 Occurrence: Widespread but scattered; shallow lighter soils in rocky areas; often in Acacia shrubland.
Distribution: S.A., or N.S.W. N.S.W. regions North Western Plains, or South Western Plains, or North Far Western Plains, or South Far Western Plains.