The Eucalypts
***
Icons
of the
Australian
Bush
EucaLink
A Web Guide to the Eucalypts
Eucalyptus jensenii
---
Eucalyptus jensenii Maiden, Crit. Revis. Eucalyptus 6: 255 (1922).

TYPE: Northern Territory, Wandi, H.I. Jensen 372, Apr 1916 (holo NSW, iso BM, BRI, K, L)

Eucalyptus perplexa Maiden & Blakely, Crit. Revis. Eucalyptus 8: 3 (1929).

TYPE: Western Australia, between Erskine Range and Mount Marmion, W.V. Fitzgerald, Aug 1906 (lecto NSW, fide Blake 1953). Four localities are cited. "Between Erskine Range and Mount Marrion (sic), Auguest, 1906." "... between Isdell River and Scented Knob... (W.V. Fitzgerald, June, 1905); Isdell River, near Mount Barnett Homestead, also at Barnett River (W.V. Fitzergerald, June 1905). Northern Territory, Roper River Crossing (Professor Baldwin Spencer, and others, July-Auguest, 1911)."
---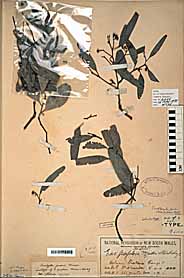 Habit: Tree.
Bark: Bark persistent throughout, "ironbark", grey-black, grey or black. Pith glands present; Bark glands present. Cotyledons obreniform (bilobed).
Leaves: Intermediate leaves disjunct early, lanceolate to ovate, straight, entire, dull grey green, petiolate. Adult leaves disjunct, broad lanceolate or elliptic or ovate, not falcate, acute, basally tapered, dull, grey-green, thin, concolorous. Lateral veins obscure, acute.
Inflorescences: Conflorescence compound, terminal or axillary; Umbellasters 3-flowered to 7-flowered. Peduncles terete.
Flowers: Buds ovoid or globose, glaucous. Calyx calyptrate; shedding early. Calyptra hemispherical, 2 times as long as hypanthium, as wide as hypanthium; smooth. Hypanthium smooth. Flowers white, or cream.
Fruits: Fruits hemispherical. Disc depressed. Valves enclosed or rim-level or exserted. Chaff dimorphic, linear and cuboid.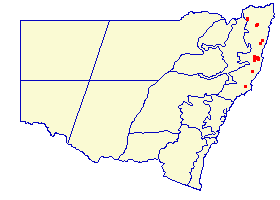 Distribution: W.A., or N.T.