EucaLink
A Web Guide to the Eucalypts
Eucalyptus melliodora
---
Eucalyptus melliodora A. Cunn. ex Schauer, in Walp., Repert. Bot. Syst. 2, suppl. 1 924 (1843).

TYPE: New South Wales, western interior and neighbourhood of Bathurst, A. Cunningham 57, 23 Nov 1825 (holo ?, iso BM, E, G, K, MEL, NSW). Cited as "A. Cunn. Herb. no. 57!"

Eucalyptus coerulescens Naudin, Descr. Employ Eucalyptus 2nd Mem. 47 (1891).

TYPE: cult. Villa Thuret, C. Naudin (Syn - P (2)). No type was cited.

Eucalyptus forsythii Maiden, Crit. Revis. Eucalyptus 6: 115 (1922).

TYPE: New South Wales, Coonabarabran-Baradine road, Pilliga Scrub, W. Forsyth, Oct 1899 (holo NSW).

Eucalyptus melliodora var. brachycarpa Blakely, Key Eucalypts 262 (1934).

TYPE: not located. Cited as "N.S.W. - Mt. Ainslie, Canberra; Gulgong."

Eucalyptus melliodora var. elliptocarpa Blakely, Key Eucalypts 262 (1934).

TYPE: New South Wales, Urana, J.W. Dwyer, Aug 1927 (holo NSW).

Eucalyptus patentiflora F. Muell. ex Miq., Ned. Kruidk. Arch. 4: 125 (1856).

TYPE: Victoria, St. Kilda, F. Mueller (holo U (?), iso K). Cited as "Inter Melbourne et St. Kilda, in itinere per regiones interiores versus sinum Rivoli-bay, m. Oct. cum alabastris legit F. Mueller."

Eucalyptus stopfordii X Maiden, Crit. Revis. Eucalyptus 6: 114 (1922).

TYPE: New South Wales, near Inverell, E.A. Stopford, May 1910 (holo NSW)
---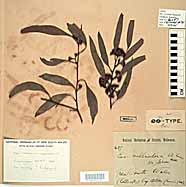 Habit: Tree, Height to 30 m high.
Bark: Bark persistent on lower trunk to persistent on trunk and larger branches, fibrous-flaky with whitish patches ("box"), grey or pale brown or yellow-brown, grey or grey-brown or yellow (above), shedding in short ribbons. Branchlets green. Pith glands absent; Bark glands absent. Cotyledons obreniform (bilobed).
Leaves: Intermediate leaves disjunct early, elliptic, straight, entire, dull green to dull grey green, petiolate, 11 cm long, 5 mm wide. Adult leaves disjunct, narrow lanceolate or lanceolate, falcate, acute, basally tapered; Petioles 10–15 mm long. Lateral veins obscure, acute, widely spaced.
Inflorescences: Conflorescence simple, axillary; Umbellasters 7-flowered, regular. Peduncles terete or narrowly flattened or angular (to 3mm wide), 3–11 mm long. Pedicels terete, 2–9 mm long.
Flowers: Buds clavate or ovoid, not glaucous or pruinose, 5–8 mm long, 3–4 mm diam. Calyx calyptrate; persisting to anthesis. Calyptra conical (sometimes beaked), 1 times as long as hypanthium, narrower than hypanthium or as wide as hypanthium; smooth. Hypanthium smooth. Flowers white, or cream.
Fruits: Fruits globose or hemispherical or ovoid, pedicellate, 5 locular, 4–7 mm long, 4–7 mm diam. Disc depressed. Valves enclosed. Chaff dimorphic, linear and cuboid, chaff same colour as seed.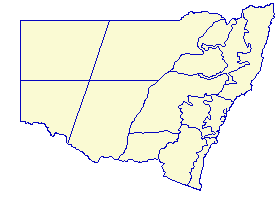 Occurrence: Widespread and locally frequent; grassy woodland on moderately fertile often sandy or alluvial soils.
Distribution: Qld, or N.S.W., or Vic. N.S.W. regions North Coast, or Central Coast, or South Coast, or Northern Tablelands, or Central Tablelands, or Southern Tablelands, or North Western Slopes, or Central Western Slopes, or South Western Slopes, or North Western Plains, or South Western Plains.