The Eucalypts
***
Icons
of the
Australian
Bush
EucaLink
A Web Guide to the Eucalypts
Eucalyptus microcarpa
---
Eucalyptus microcarpa (Maiden) Maiden, Crit. Revis. Eucalyptus 6: 438 (1923).

Eucalyptus hemiphloia var. microcarpa Maiden, Trans. & Proc. Roy. Soc. South Australia 16: 11 (1902).

TYPE: New South Wales, Gulgong, J.H. Maiden & J.L. Boorman, Apr 1904 (holo NSW). Cited as " Type, Gulgong, in National Herbarium, Sydney." (C.R. 2: 18; none cited in the earlier publication).

Eucalyptus woollsiana R. Baker, Proc. Linn. Soc. New South Wales 25: 684 (1901).

TYPE: New South Wales, Girilambone to Condobolin, W. Baeuerlen, Sep 1900 (lecto NSW, fide Maiden, 1904 & CR 5: 223, 1921). Cited as "Hab - Girilambone,Cobar and Trangie (W. Baeuerlen); Nyngan and Murga (R.H. Cambage)." Type designated by Maiden (1904), "Woollsiana No. 1". Maiden stated "It is to this form that I think the Name E. woollsiana R.T. Baker, should, to save confusion, be restricted." This can reasonably be regarded as a lectotypification, since the lectotype concept was not clearly established in Maiden's time, and Maiden's intention accorded with the concept as now established.
---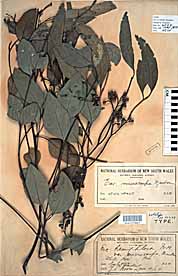 Habit: Tree.
Bark: Cotyledons obreniform (bilobed).
Leaves: Adult leaves disjunct, narrow lanceolate or lanceolate or broad lanceolate, not falcate, acuminate or acute, basally tapered, glossy.
Flowers: Calyx calyptrate; persisting to anthesis.
Fruits: Chaff dimorphic, linear and cuboid.