EucaLink
A Web Guide to the Eucalypts
Eucalyptus microtheca
---
Eucalyptus microtheca F. Muell., J. Linn. Soc., Bot. 3: 87 (1859).

TYPE: Northern Territory, Victoria River, N.T., F. Mueller, Dec 1855 (holo MEL, iso BM, K, NSW). Cited as "Hab. In Nova Hollandia tropica non rara, planities fertiliores in habitans. Anth. vere."

Eucalyptus brachypoda auct. non Turcz., ().
---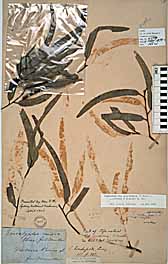 Habit: Tree.
Bark: Bark persistent throughout, fibrous-flaky with whitish patches ("box"), grey or grey-black, grey. Pith glands present; Bark glands present. Cotyledons obreniform (bilobed).
Leaves: Intermediate leaves disjunct early, lanceolate to ovate, straight, entire, dull grey green, petiolate. Adult leaves disjunct, narrow lanceolate to broad lanceolate, not falcate, acute, basally tapered, dull, grey-green, thin, concolorous. Lateral veins obscure, acute.
Inflorescences: Conflorescence compound, terminal or axillary; Umbellasters 3-flowered to 7-flowered. Peduncles terete.
Flowers: Buds ovoid or obovoid, not glaucous or pruinose. Calyx calyptrate; shedding early. Calyptra hemispherical and rostrate, 1 times as long as hypanthium or 2 times as long as hypanthium, as wide as hypanthium; smooth. Hypanthium smooth. Flowers white, or cream.
Fruits: Fruits hemispherical. Disc flat. Valves rim-level or exserted. Chaff dimorphic, linear and cuboid.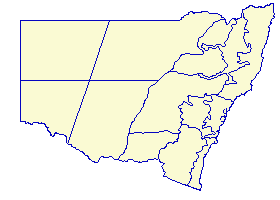 Distribution: W.A., or N.T., or S.A., or Qld, or N.S.W.