The Eucalypts
***
Icons
of the
Australian
Bush
EucaLink
A Web Guide to the Eucalypts
Eucalyptus moluccana
---
Eucalyptus moluccana Roxb., Fl. Ind. 2: 498 (1832).

TYPE: Indonesia, "Amboyna. Ch. Smith. Dr. Roxburgh (Hb.) A.B. Lambert" (holo BM). No type was cited. Roxburgh distributed all of his material to various herbaria, and the BM specimen is the only specimen located in the various European herbaria known to have received Roxburgh material. It is hence accepted as the probable holotype.

Eucalyptus hemiphloia F. Muell. ex Benth., Fl. Austral. 3: 216 (1867).

TYPE: New South Wales, Parramatta, W. Woolls (lecto K, isolecto MEL, here designated). This specimen is selected in order to establish unequivocal application of this name. Cited as "Queensland. Moreton Bay, "Box-tree", F. Mueller. N.S.Wales. Parramatta, "Box-tree", Woolls. S.Australia. Memory Cave (sic) and Kangaroo Island, R. Brown, Port Lincoln, Wilhelmi."
---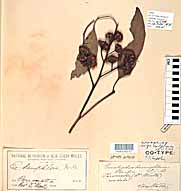 Habit: Tree, Height to 25 m high.
Bark: Bark persistent on full trunk or persistent on trunk and larger branches, fibrous-flaky with whitish patches ("box"), grey (with whitish patches), grey (above), shedding in long ribbons to shedding in short ribbons. Branchlets green. Pith glands present; Bark glands absent. Cotyledons obreniform (bilobed).
Leaves: Intermediate leaves disjunct early, ovate to orbiculate, straight, entire, dull grey green, petiolate, 17 cm long, 10 mm wide. Adult leaves disjunct, lanceolate to broad lanceolate to ovate, not falcate, acute or obtuse, basally tapered, glossy, green, thick, concolorous, 8–14 cm long, 2–4 mm wide; Petioles narrowly flattened or channelled, Petioles 15–25 mm long. Lateral veins prominent, acute, widely spaced.
Inflorescences: Conflorescence compound, terminal or axillary; Umbellasters 7-flowered, regular. Peduncles terete or narrowly flattened or angular (to 3mm wide), 5–13 mm long. Pedicels terete, 1–7 mm long.
Flowers: Buds fusiform, not glaucous or pruinose, 5–9 mm long, 3–4 mm diam. Calyx calyptrate; persisting to anthesis.
Fruits: Chaff dimorphic, linear and cuboid.