The Eucalypts
***
Icons
of the
Australian
Bush
EucaLink
A Web Guide to the Eucalypts
Eucalyptus nicholii
---
Eucalyptus nicholii Maiden & Blakely, Crit. Revis. Eucalyptus 8: 52 (1929).

TYPE: New South Wales, 16-17 miles E of Walcha, J.H. Maiden, 11.1897 (lecto NSW). Although no Type was specified, this name is based on E. acaciiformis var. linearis, which was Lectotypified by Maiden (see below). This specimen is also regarded as the Lectotype for E. nicholii. Type: None cited.

Eucalyptus acaciiformis var. linearis Deane & Maiden, Proc. Linn. Soc. New South Wales 24: 455 (1899).

TYPE: New South Wales, 16-17 miles E of Walcha, J.H. Maiden NSW 58829, Nov 1897 (lecto NSW, isolecto BM, K, MEL, fide Maiden, CR 3: 43). No type was cited.
---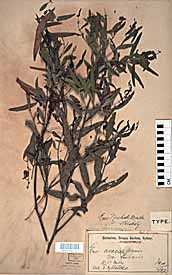 Habit: Tree, Height to 18 m high.
Bark: Bark persistent to smaller branches or persistent throughout, shortly fibrous ("peppermint") (thick), grey to grey-brown, grey, shedding in short ribbons. Branchlets green. Pith glands absent; Bark glands present. Cotyledons obreniform (bilobed).
Leaves: Intermediate leaves disjunct early, linear to narrow lanceolate (crowded), straight, entire, dull grey green, sessile, 5 cm long, 0.5 mm wide. Adult leaves disjunct, narrow lanceolate, falcate, acute or emarginate or retuse, basally tapered, dull, grey-green, thin, concolorous, 6–12 cm long, 0.5–1 mm wide; Petioles 7–12 mm long. Lateral veins obscure, acute, moderately spaced.
Inflorescences: Conflorescence simple, axillary; Umbellasters 7-flowered, regular. Peduncles terete, 5–8 mm long. Pedicels terete, 2–3 mm long.
Flowers: Buds ovoid or fusiform, not glaucous or pruinose, 3–5 mm long, 2–3 mm diam. Calyx calyptrate; shedding early. Calyptra conical, 1 times as long as hypanthium or 2 times as long as hypanthium, as wide as hypanthium; smooth. Hypanthium smooth. Flowers white, or cream.
Fruits: Fruits hemispherical or conical, pedicellate, 3 locular, 2–5 mm long, 3–4 mm diam. Disc flat. Valves exserted. Chaff dimorphic, linear and cuboid, chaff same colour as seed.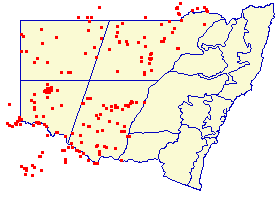 Occurrence: Restricted and uncommon; grassy or sclerophyllous woodland on shallow relatively infertile soils on shales and slates.
Distribution: N.S.W. N.S.W. regions Northern Tablelands.