The Eucalypts
***
Icons
of the
Australian
Bush
EucaLink
A Web Guide to the Eucalypts
Eucalyptus odorata
---
Eucalyptus odorata Behr ex Schlecht., Linnaea 20: 657 (1947).

TYPE: Nov. Holl. austr., H. Behr. (holo B (? or HAL, Boomsma 1969), iso R, MEL). No type was cited.

Eucalyptus cajuputea F. Muell. ex Miq., Ned. Kruidk. Arch. 4: 126 (1856).

TYPE: South Australia, Mt. Remarkable, Flinder's Range, F. Mueller, 1851 (holo U (?), iso K, MEL, NSW).

Eucalyptus odorata var. angustifolia Blakely, Key Eucalypts 226 (1934).

TYPE: South Australia, Port Lincoln to Coffin's Bay, J.H. Maiden, Jan 1907 (holo NSW)

Eucalyptus odorata var. refracta Blakely, Key Eucalypts 226 (1934).

TYPE: South Australia, near Beaumont, J.B. Cleland, 21 May 1911 (holo NSW)
---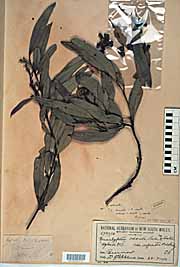 Habit: Tree or Mallee.
Bark: Bark persistent on full trunk or persistent on trunk and larger branches, fibrous-flaky with whitish patches ("box"), grey or grey-brown, grey or black. Pith glands present; Bark glands present. Cotyledons obreniform (bilobed).
Leaves: Intermediate leaves disjunct early, lanceolate to ovate, straight, entire, dull grey green, petiolate. Adult leaves disjunct, lanceolate, falcate, acute, basally tapered, dull, green or grey-green, thick, concolorous. Lateral veins prominent, very acute or acute.
Inflorescences: Conflorescence simple, axillary; Umbellasters 3-flowered to 7-flowered to 11-flowered. Peduncles quadrangular.
Flowers: Buds ovoid, not glaucous or pruinose. Calyx calyptrate; persisting to anthesis. Calyptra hemispherical or conical, 1 times as long as hypanthium or 2 times as long as hypanthium, as wide as hypanthium; smooth. Hypanthium smooth. Flowers white, or cream.
Fruits: Fruits cylindrical or turbinate or ovoid. Disc depressed. Valves enclosed. Chaff dimorphic, linear and cuboid.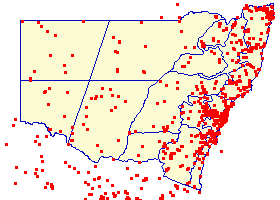 Distribution: S.A., or Vic.