The Eucalypts
***
Icons
of the
Australian
Bush
EucaLink
A Web Guide to the Eucalypts
Eucalyptus orgadophila
---
Eucalyptus orgadophila Maiden & Blakely, Crit. Revis. Eucalyptus 7: 462 (1928).

TYPE: Queensland, Cooranga North, Northern Darling Downs, C.T. White 2484, 21 Apr 1925 (holo NSW, iso BRI, CANB, K, L)

Eucalyptus intertexta var. magna Blakely, Key Eucalypts 168 (1934).

TYPE: Queensland, Springsure, J.L. Bowman NSW 20169, Jun 1913 (lecto NSW, here designated). This specimen is fully representative, and the first in Blakely's citations. Cited as "Q - Springsure, Roma, Gowrie, Little Plain, Bindango, west of Roma."
---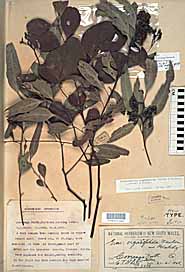 Habit: Tree.
Bark: Bark persistent on lower trunk or persistent on full trunk, fibrous-flaky with whitish patches ("box"), grey or grey-black, white or grey. Pith glands present; Bark glands present. Cotyledons obreniform (bilobed).
Leaves: Intermediate leaves disjunct early, lanceolate to ovate, straight, entire, dull grey green, petiolate. Adult leaves disjunct, lanceolate or broad lanceolate, not falcate, acute, basally tapered, dull, green, thick, concolorous. Lateral veins obscure, acute.
Inflorescences: Conflorescence compound, terminal or axillary; Umbellasters 3-flowered to 7-flowered. Peduncles quadrangular.
Flowers: Buds obovoid or clavate, not glaucous or pruinose. Calyx calyptrate; shedding early. Calyptra hemispherical, 1 times as long as hypanthium, as wide as hypanthium; smooth. Hypanthium smooth. Flowers white, or cream.
Fruits: Fruits cylindrical or pyriform. Disc flat. Valves enclosed. Chaff dimorphic, linear and cuboid.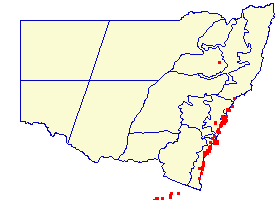 Distribution: Qld.