The Eucalypts
***
Icons
of the
Australian
Bush
EucaLink
A Web Guide to the Eucalypts
Eucalyptus patens
---
Eucalyptus patens Benth., Fl. Austral. 3: 247 (1867).

TYPE: Western Australia, J. Drummond 4: 72 (lecto K, isolecto BM, CGE, NSW, fide Maiden C.R. 2: 311). Cited as "W. Australia. Harvey river. "Black-butt," Oldfield; Tone river and granite rocks near Cape Arid, Maxwell; also Drummond, 4th Coll. n.72; Gilbert; J.S. Roe; and in Preiss's collecton..."
---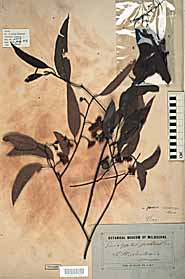 Habit: Tree.
Bark: Cotyledons reniform.
Flowers: Calyx calyptrate; persisting to anthesis.
Fruits: Chaff cuboid.
Distribution: W.A.