The Eucalypts
***
Icons
of the
Australian
Bush
EucaLink
A Web Guide to the Eucalypts
Eucalyptus pellita
---
Eucalyptus pellita F. Muell., Fragm. 4: 159 (1864).

TYPE: Queensland, Rockingham Bay, J. Dallachy, 1864 (holo MEL, iso K). Cited as "Ad sinum oceanum Rockingham Bay. Dallachy."

Eucalyptus resinifera var. pellita F. Muell. ex Bailey, Syn. Queensland Fl. 179 (1883).

Eucalyptus spectabilis F. Muell., Fragm. 5: 45 (1865).

TYPE: Queensland, Rockingham Bay, J. Dallachy, 1864 (holo MEL, iso K). Cited as "In pratis ad sinum Rockingham's Bay, Smithiam sensitivam comitans. Dallachy."
---
Habit: Tree.
Bark: Bark persistent throughout, stringy, brown or red-brown. Pith glands present; Bark glands present. Cotyledons obreniform (bilobed).
Leaves: Intermediate leaves disjunct late, lanceolate to elliptic, straight, entire, glossy green, petiolate. Adult leaves disjunct, lanceolate or broad lanceolate, falcate, acute or obtuse or apiculate, oblique or basally tapered, glossy, green, thick, discolorous; Petioles narrowly flattened or channelled. Lateral veins obscure, obtuse.
Inflorescences: Conflorescence simple, axillary; Umbellasters 3-flowered to 7-flowered. Peduncles broadly flattened.
Flowers: Buds ovoid or turbinate, not glaucous or pruinose. Calyx calyptrate; shedding early. Calyptra conical, 3 times as long as hypanthium, wider than hypanthium; smooth. Hypanthium smooth, or ribbed. Flowers white, or cream.
Fruits: Fruits hemispherical or conical. Disc depressed or flat or raised. Valves exserted. Chaff dimorphic, linear and cuboid.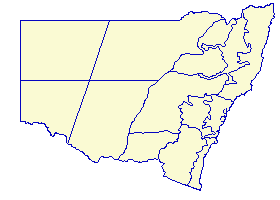 Distribution: Qld, or N.S.W.