The Eucalypts
***
Icons
of the
Australian
Bush
EucaLink
A Web Guide to the Eucalypts
Eucalyptus pluricaulis
---
Eucalyptus pluricaulis Brooker & Hopper, Nuytsia 8(1): 155 (1991).

TYPE: Western Australia, depression W of Mudge Road intersection with Coorow-Gren head road, 21 May 1982, M.I.H. Brooker 7522 (holo PERTH, iso CANB, NSW).
---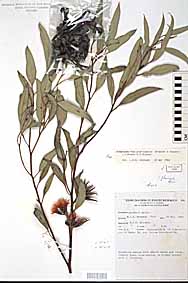 Habit: Mallee.
Bark: Bark glands absent. Cotyledons bisected.
Leaves: Adult leaves disjunct.
Flowers: Calyx calyptrate; shedding early.
Fruits: Chaff dimorphic, linear and cuboid.
Distribution: W.A.