EucaLink
A Web Guide to the Eucalypts
Eucalyptus polyanthemos
---
Eucalyptus polyanthemos Schauer, in Walp., Repert. Bot. Syst. 2, suppl. 1 924 (1843).

TYPE: New South Wales, Bathurst, A. Cunningham 136, 1822 (holo W (?), iso BM, K). Cited as "Bathurst. - A. Cunn. Herb. no. 136/1822!"

Eucalyptus ovalifolia R. Baker, Proc. Linn. Soc. New South Wales 25: 680 (1901).

TYPE: New South Wales, Cow Flat, Bathurst, R.T. Baker, 10 Feb 1901 (lecto NSW, fide Maiden C.R. 2: 132). Cited as "Hab - Bathurst, Rylstone and Camboon (R.T. Baker); Hargraves (A.A. Sutton); Gerogery (L.Mann)." Baker had annotated a specimen with the locality of "Bylong" as Type, but as this locality was not cited in the protologue it can have no significance.

Eucalyptus ovalifolia var. lanceolata R. Baker & H.G. Smith, Res. Eucalypts 124 (1902).

TYPE: New South Wales, Camboon, N of Rylestone, R.T. Baker NSW 19153, 10 Oct 1893 (lecto NSW; here designated). Cited as "Habitat: Camboon, Rylstone (R.T.B.), Hargraves (A.A. Sutton), Wellington, New South Wales." This specimen is one of several from this locality endorsed with the varietal name by Baker, whereas none from the other cited localities are so endorsed. The specimen bears leaves, buds and flowers.
---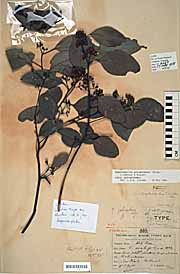 Habit: Tree, Height to 25 m high.
Bark: Bark smooth throughout or persistent on lower trunk to persistent on trunk and larger branches, fibrous-flaky with whitish patches ("box"), grey (with whitish patches), white or grey (above), shedding in short ribbons to shedding in small polygonal flakes. Branchlets green. Pith glands absent; Bark glands absent. Cotyledons obreniform (bilobed).
Leaves: Intermediate leaves disjunct early, orbiculate, straight, entire, dull grey green to glaucous, petiolate, 6.5 cm long, 8 mm wide. Adult leaves disjunct, broad lanceolate or elliptic or ovate, not falcate, acute or obtuse or rounded or emarginate, basally tapered, dull, grey-green or glaucous, thick, concolorous, 4–9 cm long, 1.5–3.5 mm wide; Petioles narrowly flattened or channelled, Petioles 15–25 mm long. Lateral veins prominent, very acute or acute, widely spaced.
Inflorescences: Conflorescence compound, terminal or axillary; Umbellasters 7-flowered, regular. Peduncles terete, 5–10 mm long. Pedicels terete, 2–5 mm long.
Flowers: Buds ovoid or clavate or fusiform (short), glaucous, 4–5 mm long, 2–3 mm diam. Calyx calyptrate; shedding early. Calyptra hemispherical or conical, 1 times as long as hypanthium, narrower than hypanthium; smooth. Hypanthium smooth, or ribbed. Flowers white, or cream.
Fruits: Fruits hemispherical or conical or cylindrical, pedicellate, 3–4 locular, 4–7 mm long, 3–6 mm diam. Disc depressed. Valves enclosed. Chaff dimorphic, linear and cuboid, chaff same colour as seed.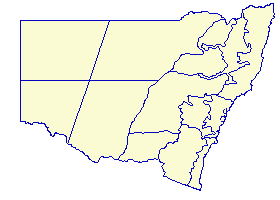 Occurrence: Widespread and abundant; grassy or sclerophyllous woodland on light shallow soils.
Distribution: N.S.W. regions Northern Tablelands, or Central Tablelands, or Southern Tablelands, or Central Western Slopes, or South Western Slopes.