The Eucalypts
***
Icons
of the
Australian
Bush
EucaLink
A Web Guide to the Eucalypts
Eucalyptus roycei
---
Eucalyptus roycei S.G.M. Carr D.J. Carr & A.S. George, Proc. Roy. Soc. Victoria n.s. 83: 159 figs. 2-8 (1970).

TYPE: Western Australia, near Hamelin Pool, E.M. Scrymgeour and S.G.M. Carr 284, 2 Mar 1966 (holo PERTH, iso BRI, CANB, MEL, NSW, PERTH). Cited as "E.M. Scrymgeour and S.G.M. Carr 284. PERTH."
---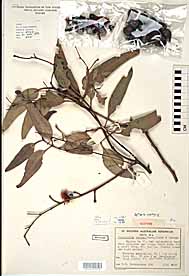 Habit: Tree or Mallee.
Bark: Bark smooth throughout, grey or grey-brown or yellow, shedding in short ribbons or shedding in small polygonal flakes. Pith glands present; Bark glands present. Cotyledons reniform.
Leaves: Intermediate leaves disjunct early, elliptic, straight, entire, dull grey green, sessile. Adult leaves opposite or disjunct, lanceolate or broad lanceolate or ovate, falcate or not falcate, acute or acuminate, basally tapered, dull, green, coriaceous, concolorous. Lateral veins prominent, acute.
Inflorescences: Conflorescence simple, axillary; Umbellasters 3-flowered. Peduncles terete or quadrangular.
Flowers: Buds ovoid or cylindrical, not glaucous or pruinose. Calyx reduced to 4 teeth on hypanthium. Calyptra hemispherical or conical, 1 times as long as hypanthium, wider than hypanthium; smooth. Hypanthium striate, or ribbed. Flowers cream, or yellow.
Fruits: Fruits cylindrical, pedicellate. Disc depressed. Valves enclosed.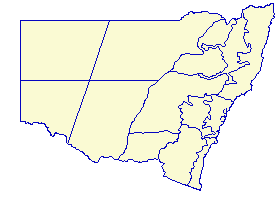 Distribution: W.A.