EucaLink
A Web Guide to the Eucalypts
Eucalyptus rubida
---
Eucalyptus rubida Deane & Maiden, Proc. Linn. Soc. New South Wales 24: 456 (1899).

TYPE: New South Wales, Jindabyne, J.H. Maiden, 1.1898 (lecto NSW, 2 sheets). Designated by Maiden (C.R. 3: 123). No type was cited. Notes on the range mention "Mt Kosciusko, Jindabyne, Adaminaby, Delegate to Bombala and Cooma, Michelago, Queanbeyan; northerly nearly as for as Moss Vale, Westerly as far as Sunny Corner and the tribularies of the Turon. Extends also to Victoria and South Australia (St. Vincent's Gulf)."

Eucalyptus gunnii var. rubida (Deane & Maiden) Maiden, Proc. Linn. Soc. New South Wales 26: 577 (1901).

Eucalyptus viminalis var. microcarpa F. Muell. ex Miq., Ned. Kruidk. Arch. 4: 125 (1856).

TYPE: South Australia, Fifteen Miles Creek, Lofty Ranges, "Ad Fifteen-miles-creek", F. Mueller (iso NSW)

Eucalyptus granularis Sieber ex Benth., Fl. Austral. 3: 240 (1867).

nom. nud., in syn.

Eucalyptus sacchariflua var. microcarpa F. Muell. ex Maiden, Crit. Revis. Eucalyptus 3: 112 (1916).

nom. nud. in syn.
---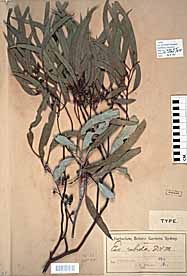 Habit: Tree, Height to 40 m high.
Bark: Bark smooth throughout or persistent on lower trunk (at times shedding irregularly), shortly fibrous ("peppermint") (platy), grey to grey-black, powdery, white or grey or red or pink, shedding in long ribbons. Branchlets green. Pith glands absent; Bark glands present. Cotyledons obreniform (bilobed).
Leaves: Intermediate leaves opposite, orbiculate, straight, entire, glaucous, sessile, 4.5 cm long, 5.5 mm wide. Adult leaves disjunct, narrow lanceolate or lanceolate, falcate, acute, basally tapered, dull, green or grey-green, thick, concolorous, 9–16 cm long, 1–3.3 mm wide; Petioles narrowly flattened or channelled, Petioles 13–30 mm long. Lateral veins prominent, acute, moderately spaced.
Inflorescences: Conflorescence simple, axillary; Umbellasters 3-flowered, regular. Peduncles narrowly flattened or angular (to 3mm wide), 3–8 mm long. Pedicels terete, 0–3 mm long.
Flowers: Buds ovoid, glaucous or pruinose, 4–8 mm long, 3–5 mm diam. Calyx calyptrate; shedding early. Calyptra conical or hemispherical, 2 times as long as hypanthium, as wide as hypanthium; smooth. Hypanthium smooth. Flowers white, or cream.
Fruits: Fruits cylindrical or hemispherical or ovoid, pedicellate, 3–4 locular, 4–7 mm long, 5–8 mm diam. Disc raised or flat (rarely). Valves exserted. Chaff dimorphic, linear and cuboid, chaff same colour as seed.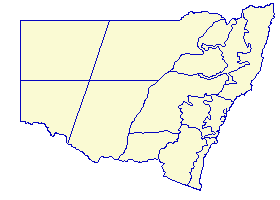 Occurrence: Widespread and abundant; grassy or sclerophyllous woodland on soils of medium fertility on cold flats.
Distribution: N.S.W., or Vic., or Tas. N.S.W. regions Northern Tablelands, or Central Tablelands, or Southern Tablelands, or South Western Slopes.