The Eucalypts
***
Icons
of the
Australian
Bush
EucaLink
A Web Guide to the Eucalypts
Eucalyptus sessilis
---
Eucalyptus sessilis (Maiden) Blakely, Key Eucalypts 276 (1934).

Eucalyptus pachyphylla var. sessilis Maiden, Crit. Revis. Eucalyptus 5: 14 Plate 171 fig. 47 (1920).

TYPE: Northern Territory, Glen of Palms, Macdonnell Range, E. Giles, 1872 (holo MEL, NSW [part of holo ?]). Cited as "The specimens, Glen of Palms, Macdonnell Range, Northern Territory (E. Giles), may be taken as the type of the proposed variety (see figs. 4a to c, Plate 171)."
---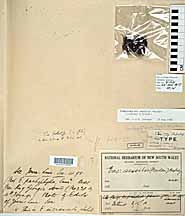 Habit: Mallee.
Bark: Bark smooth throughout, white or grey. Pith glands absent; Bark glands absent. Cotyledons bisected.
Leaves: Intermediate leaves disjunct early, broad lanceolate to ovate, straight, entire, dull grey green, petiolate. Adult leaves disjunct, lanceolate or broad lanceolate or ovate, not falcate, acute, basally tapered, dull, grey-green, thick, concolorous. Lateral veins obscure, acute.
Inflorescences: Conflorescence simple, axillary; Umbellasters 7-flowered. Peduncles terete.
Flowers: Buds ovoid and rostrate, not glaucous or pruinose. Calyx calyptrate; shedding early. Calyptra hemispherical or conical and rostrate, 3 times as long as hypanthium, as wide as hypanthium; ribbed. Hypanthium ribbed. Flowers cream, or yellow.
Fruits: Fruits globose or hemispherical. Disc raised. Valves exserted. Chaff dimorphic, linear and cuboid.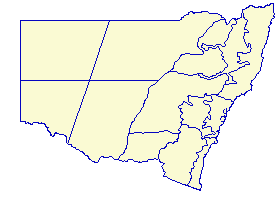 Distribution: W.A., or N.T.