The Eucalypts
***
Icons
of the
Australian
Bush
EucaLink
A Web Guide to the Eucalypts
Eucalyptus similis
---
Eucalyptus similis Maiden, J. & Proc. Roy. Soc. New South Wales 47: 90 (1913).

TYPE: Queensland, desert country W of Emerald, G.H. Carr, March 1908 (holo NSW, iso CANB, K).
---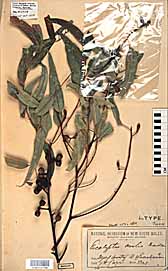 Habit: Tree.
Bark: Bark persistent throughout, tessellated or fibrous-flaky with whitish patches ("box"), yellow-brown or orange, brown or yellow, shedding in short ribbons or shedding in small polygonal flakes. Pith glands present; Bark glands present. Cotyledons reniform.
Leaves: Intermediate leaves disjunct early, elliptic, straight, entire, dull grey green, sessile. Adult leaves disjunct, lanceolate, falcate or not falcate, acuminate, basally tapered, glossy, green or grey-green, coriaceous or thick, discolorous, 999 cm long, 999 mm wide; Petioles 999 mm long. Lateral veins obscure, obtuse.
Inflorescences: Conflorescence simple, axillary; Umbellasters 3-flowered to 7-flowered. Peduncles terete or narrowly flattened or angular (to 3mm wide), 999 mm long. Pedicels 999 mm long.
Flowers: Buds ovoid or clavate, not glaucous or pruinose. Calyx reduced to teeth on corolline calyptra. Calyptra hemispherical or conical, 1 times as long as hypanthium or 2 times as long as hypanthium, as wide as hypanthium; smooth. Hypanthium striate, or ribbed. Flowers white, or cream.
Fruits: Fruits globose or ovoid or urceolate, pedicellate, 999 mm long, 999 mm diam. Disc depressed. Valves rim-level or exserted.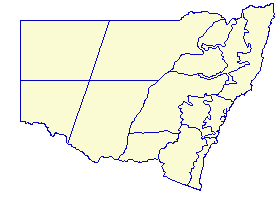 Distribution: Qld.