The Eucalypts
***
Icons
of the
Australian
Bush
EucaLink
A Web Guide to the Eucalypts
Eucalyptus tetraptera
---
Eucalyptus tetraptera Turcz., Bull. Soc. Nat. Mosc. 22(2): 22 (1849).

TYPE: Western Australia, Swan River Colony, J. Drummond 4: 71, 1848 (holo KW, iso CGE, FI, G, K, LE, NSW, PERTH). Cited as "Drum. IV. n. 17." Turczaninow's citation "n. 17" is a misprint.

Eucalyptus acutangula Turcz., Bull. Cl. Phys.-Math. Acad. Imp. Sci. Saint-Petersbourg 10: 337 (1852).

TYPE: Western Australia, 'Nova Hollandia', J. Drummond 5: 189 (holo KW, iso BM, CGE, FI, G).
---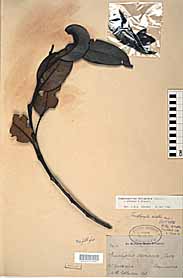 Habit: Mallee.
Bark: Bark smooth throughout, grey. Pith glands present; Bark glands present. Cotyledons obreniform (bilobed).
Leaves: Intermediate leaves disjunct early, lanceolate to ovate, straight, entire, dull grey green, petiolate. Adult leaves opposite or disjunct, broad lanceolate or elliptic, not falcate, acute or obtuse, basally tapered, glossy, green, coriaceous, concolorous; Petioles narrowly flattened or channelled. Lateral veins prominent or obscure, obtuse.
Inflorescences: Conflorescence simple, axillary; Umbellasters 1-flowered. Peduncles broadly flattened.
Flowers: Buds cylindrical, not glaucous or pruinose. Calyx calyptrate; shedding early. Calyptra conical, 1 times as long as hypanthium, narrower than hypanthium; smooth. Hypanthium ribbed, or quadrangular. Flowers pink, or red.
Fruits: Fruits cylindrical. Disc depressed. Valves enclosed. Chaff dimorphic, linear and cuboid.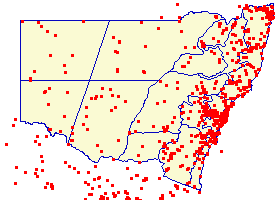 Distribution: W.A.