The Eucalypts
***
Icons
of the
Australian
Bush
EucaLink
A Web Guide to the Eucalypts
Eucalyptus tetrodonta
---
Eucalyptus tetrodonta F. Muell., J. Linn. Soc., Bot. 3: 97 (1859).

TYPE: Lectotype to be chosen from Armstrong and Cunningham collections in MEL. Maiden (C.R. 5: 152) stated that the Type was a Mueller collection from the entrance to the Victoria River, and he was followed by Blake (1953, plate 9). There is no support for this. Cited as "Hab. In plagis elevatis nemorosis minus fertilibus terrae Arnheim's Land passim. (Ad Portum Essington, Armstrong; et in ora boreali, A. Cunningham, in hb. Hook.) Anth. Aug., Sept."
---
Habit: Tree.
Bark: Bark persistent throughout, stringy, grey, grey, shedding in short ribbons or shedding in small polygonal flakes. Pith glands present; Bark glands present. Cotyledons reniform.
Leaves: Intermediate leaves disjunct early, elliptic, straight, entire, dull grey green, sessile. Adult leaves opposite or disjunct, narrow lanceolate or lanceolate, falcate or not falcate, acuminate, basally tapered, dull, grey-green, thick, concolorous, 999 cm long, 999 mm wide; Petioles narrowly flattened or channelled, Petioles 999 mm long. Lateral veins prominent, obtuse.
Inflorescences: Conflorescence simple, axillary; Umbellasters 3-flowered. Peduncles terete or narrowly flattened or angular (to 3mm wide), 999 mm long. Pedicels 999 mm long.
Flowers: Buds obovoid or pyriform, not glaucous or pruinose. Calyx reduced to 4 teeth on hypanthium. Calyptra hemispherical, 1 times as long as hypanthium, wider than hypanthium; smooth, or rugose. Hypanthium smooth. Flowers white, or cream.
Fruits: Fruits cylindrical or campanulate, pedicellate, 999 mm long, 999 mm diam. Disc depressed. Valves enclosed or rim-level.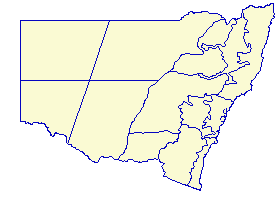 Distribution: W.A., or N.T., or Qld.