The Eucalypts
***
Icons
of the
Australian
Bush
EucaLink
A Web Guide to the Eucalypts
Eucalyptus thozetiana
---
Eucalyptus thozetiana F. Muell. ex R. Baker, Proc. Linn. Soc. New South Wales 31: 305 (1906).

TYPE: Queensland, Expedition Range, M. Thozet (holo NSW, MEL). Baker cited a number of localities, but referred to comments by Mueller (Eucalyptographia, under E. gracilis). Mueller cited Thozet as collector of a specimen from the Expedition Range.

Eucalyptus gracilis var. thozetii Bailey, Queensland Fl. 2: 615 (1900).

TYPE: "Expedition Range, E. Bowman and P. O''Shanesy (F.v.M. Eucalyptog.)"

Eucalyptus gracilis var. thozetiana F. Muell., Eucalyptographia dec. 3 (1879).
---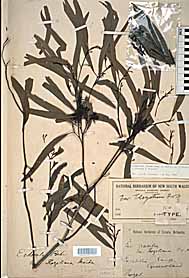 Habit: Tree.
Bark: Bark smooth throughout, white or grey or pink. Pith glands present; Bark glands present. Cotyledons obreniform (bilobed).
Leaves: Intermediate leaves disjunct early, lanceolate to ovate, straight, entire, dull grey green, petiolate. Adult leaves disjunct, linear or narrow lanceolate or lanceolate, not falcate, acute, basally tapered, glossy, green or grey-green, thin, concolorous. Lateral veins obscure, very acute or acute.
Inflorescences: Conflorescence compound, terminal; Umbellasters 7-flowered. Peduncles terete.
Flowers: Buds cylindrical or pyriform or conical, not glaucous or pruinose. Calyx calyptrate; persisting to anthesis. Calyptra hemispherical or conical, 1 times as long as hypanthium, wider than hypanthium; smooth. Hypanthium smooth, or quadrangular. Flowers white.
Fruits: Fruits cylindrical or ovoid (truncate). Disc depressed. Valves enclosed. Chaff dimorphic, linear and cuboid.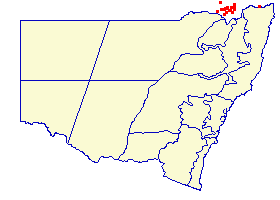 Distribution: N.T., or Qld.