The Eucalypts
***
Icons
of the
Australian
Bush
EucaLink
A Web Guide to the Eucalypts
Eucalyptus tintinnans
---
Eucalyptus tintinnans (Blakely & Jacobs) L.A.S. Johnson & K.D. Hill, Fl. Australia 19: 509 (1988).

Eucalyptus platyphylla var. tintinnans Blakely & Jacobs, in Blakely, Key Eucalypts 138 (1934).

TYPE: Northern Territory, outlier from plateau 10 miles W. of Pine Creek, M.R. Jacobs 89, 22 Jul 1933 (lecto NSW, fide Johnson & Hill 1988). Cited as "N.T. -'... between Stapleton and Birdum.. ' Dr M. R. Jacobs."; "'... Wandi.' Dr H. I. Jensen, No. 376, April, 1916."; "'... Umbrawarra.' Dr H. I. Jensen, No. 404, July, 1916.""
---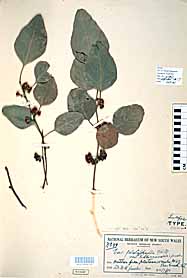 Habit: Tree.
Bark: Bark smooth throughout, white or grey-brown or brown. Pith glands present; Bark glands present. Cotyledons obreniform (bilobed).
Leaves: Intermediate leaves disjunct early, lanceolate to ovate, straight, entire, dull grey green, petiolate. Adult leaves disjunct, lanceolate or suborbiculate or orbiculate or rhomboidal, not falcate, rounded or emarginate, basally rounded, dull, green, thin, concolorous; Petioles narrowly flattened or channelled. Lateral veins prominent, obtuse.
Inflorescences: Conflorescence simple, axillary; Umbellasters 3-flowered to 7-flowered. Peduncles terete or quadrangular or narrowly flattened or angular (to 3mm wide).
Flowers: Buds ovoid, not glaucous or pruinose. Calyx calyptrate; shedding early. Calyptra hemispherical, 3 times as long as hypanthium, as wide as hypanthium; smooth. Hypanthium smooth. Flowers white, or cream.
Fruits: Fruits hemispherical or turbinate. Disc depressed or flat or raised. Valves exserted. Chaff dimorphic, linear and cuboid.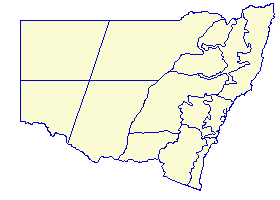 Distribution: N.T., or Qld.