The Eucalypts
***
Icons
of the
Australian
Bush
EucaLink
A Web Guide to the Eucalypts
Eucalyptus uncinata
---
Eucalyptus uncinata Turcz., Bull. Soc. Nat. Mosc. 22(2): 23 (1849).

TYPE: Western Australia, 'Nova Hollandia', J. Drummond 2: 66, 1845 (holo KW, iso BM, FI, G, K, LE, NSW). Cited as "Drum. 11.n.66"

Eucalyptus desertorum Naudin, Descr. Emploi Eucalyptus 2nd Mem. 56 (1891).

TYPE: cult. Antibes, France, M. Naudin, 1889 (syn P, 3 Naudin specimens, 2 from cultivated plants at Villa Thuret and 1 from the garden of M. Grandmont, all dated 1889). No type was cited.

Eucalyptus uncinata var. latifolia Benth., Fl. Austral. 3: 216 (1867).

TYPE: Western Australia, Drummond 4: 76 (holo K, iso BM, CGE, FI, LE, NSW, PERTH). Cited as "W. Australia. Drummond 4th Coll. n. 76."
---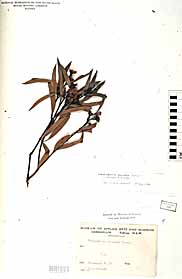 Habit: Mallee.
Bark: Bark smooth throughout, grey or grey-brown or brown. Pith glands absent; Bark glands absent. Cotyledons bisected.
Leaves: Intermediate leaves opposite, elliptic, straight, crenate, glaucous, sessile. Adult leaves disjunct, lanceolate, not falcate, acute or obtuse or apiculate, basally tapered, glossy, green, thick, concolorous; Petioles narrowly flattened or channelled. Lateral veins obscure, acute.
Inflorescences: Conflorescence simple, axillary; Umbellasters 7-flowered to 11-flowered to more than 11 flowered. Peduncles narrowly flattened or angular (to 3mm wide).
Flowers: Buds ovoid, not glaucous or pruinose. Calyx calyptrate; shedding early. Calyptra conical, 1 times as long as hypanthium, as wide as hypanthium; ribbed. Hypanthium ribbed. Flowers cream.
Fruits: Fruits ovoid. Disc depressed. Valves enclosed or rim-level. Chaff dimorphic, linear and cuboid.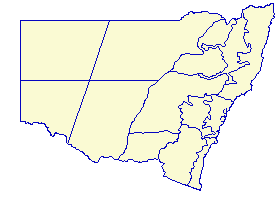 Distribution: W.A.