The Eucalypts
***
Icons
of the
Australian
Bush
EucaLink
A Web Guide to the Eucalypts
Eucalyptus whitei
---
Eucalyptus whitei Maiden & Blakely, J. & Proc. Roy. Soc. New South Wales 59: 172 (1925).

TYPE: Queensland, Berricania, J.S. Swanson, Sep 1920 (lecto NSW, isolecto BRI, fide Maiden C.R. 7: 401, 1927). Cited as "Burdekin River, an old specimen from F. Mueller, mixed with E. crebra; at 1400 feet, Prairie, 30 miles east of Hughenden. An Ironbark looked upon as a large-fruited form of E. crebra. Mature leaves (which are more or less glaucous) and fruits alone available, but it appears to be fairly typical of the species (R.H. Cambage, No. 3955, 1913); Berricania, Central Queensland, on the road between Muttaburra and Prairie. A small Ironbark (C.T. White, April, 1919); Tower Hill, small Ironbark, very common (No. 16, same collector and date); common about Berricania. J.S. Swanson, September, 1920 (C.T. White, No. 17); "Ironbark," with slightly smaller fruits, The Plains, Prairie (J.R. Chisholm, August, 1920)."
---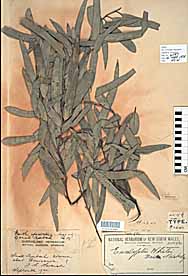 Habit: Tree.
Bark: Bark persistent throughout, "ironbark", grey-black, grey or grey-brown or black. Pith glands present; Bark glands present. Cotyledons obreniform (bilobed).
Leaves: Intermediate leaves disjunct early, lanceolate to ovate, straight, entire, dull grey green, petiolate. Adult leaves disjunct, narrow lanceolate, falcate, acuminate, basally tapered, dull, grey-green or glaucous, thin, concolorous; Petioles narrowly flattened or channelled. Lateral veins obscure, acute or obtuse.
Inflorescences: Conflorescence compound or simple, axillary; Umbellasters 7-flowered. Peduncles terete.
Flowers: Buds fusiform, glaucous. Calyx calyptrate; shedding early. Calyptra conical, 2 times as long as hypanthium or 3 times as long as hypanthium, as wide as hypanthium; smooth. Hypanthium smooth. Flowers white, or cream.
Fruits: Fruits ovoid. Disc depressed. Valves enclosed. Chaff dimorphic, linear and cuboid.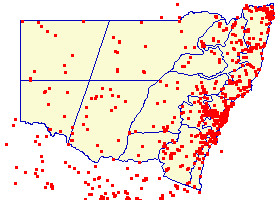 Distribution: Qld.