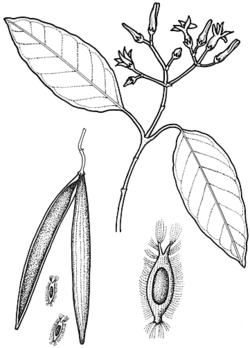 Description: Trees or shrubs with milky latex.
Leaves opposite or in whorls of 3–8.
Flowers in terminal or subterminal cymose panicles. Calyx lobes ovate, ciliate, with small glands inside. Corolla tubular, lobes narrow, spreading, shortly hairy inside towards the base, contorted in bud. Stamens very short, free, enclosed in the tube; anthers free from the stigma, small, apiculate and fertile to the base. Ovary of 2 distinct carpels united by the short style; style head ovoid.
Fruit 1 or 2 cylindrical follicles; seeds numerous, flat, with a coma of silky hairs and shorter hairs at the base.
Distribution and occurrence: World: 50 species, tropical Asia to SW Pacific. Australia: 7 species (4 or 5 species endemic), Qld, N.S.W., N.T., W.A.


Text by G. J. Harden & J. B. Williams
Taxon concept:
One species in NSW: Alstonia constricta