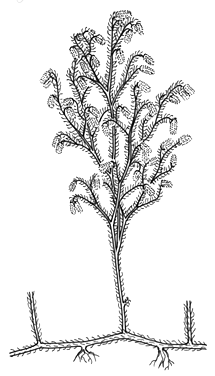 Description: Terrestrial herb with stems differentiated into 2 systems; main stems (rhizomes) subterranean or creeping; aerial branchlet system simple to much-branched, arising dorsally along main stems, with growth terminating in strobili.
Leaves similar or varying in shape and size.
Strobili erect to nodding or pendent, terminal on simple to much-branched branchlet systems or lateral. Sporophylls broad-ovate to broad-triangular. Sporangia attached to sporophyll bases or axillary; spores rugose. Gametophytes green, tuberous, lobed above, partly saprophytic.
Distribution and occurrence: World: 40 spp., temperate and tropical regions. Australia: 5 spp., all States.


Text by Peter G. Wilson (2000)
Taxon concept:
Key to the species
1
Strobili pendent, terminal on short drooping branches, numerous; aerial system much-branched
Lycopodiella cernua
Strobili erect, terminal on erect shoots or on short erect lateral shoots; aerial system unbranched or once or twice branched
2
2
Lateral stems subterranean, much branched, erect to 60 cm or sometimes longer; strobili nodding
Lycopodiella lateralis
Lateral stems creeping; aerial stems unbranched and to 5 cm long; strobili erect
Back to 1
Lycopodiella serpentina