The Eucalypts
***
Icons
of the
Australian
Bush
EucaLink
A Web Guide to the Eucalypts
Eucalyptus confluens
---
Eucalyptus confluens W.V. Fitzg. ex Maiden, J. & Proc. Roy. Soc. New South Wales 49: 317 (1916).

TYPE: Western Australia, summit of Mt. Behn, W.V. Fitzgerald 687, May 1905 (lecto NSW, here designated). Maiden quoted habitat notes from Fitzgerald's reports, mentioning the north-east of the King Leopold Ranges, specifically Mt. House, Mt. Clifton and Mt. Behn.
---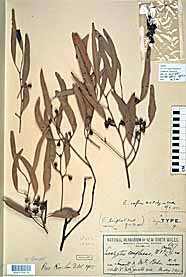 Habit: Tree.
Bark: Bark smooth throughout, white or pink. Pith glands present; Bark glands present. Cotyledons obreniform (bilobed).
Leaves: Intermediate leaves disjunct early, lanceolate to ovate, straight, entire, dull grey green, petiolate. Adult leaves disjunct, narrow lanceolate or lanceolate, not falcate, acuminate, basally tapered, glossy, green, thick, concolorous. Lateral veins obscure, acute.
Inflorescences: Conflorescence simple, axillary; Umbellasters 3-flowered to 7-flowered. Peduncles terete.
Flowers: Buds ovoid or clavate, not glaucous or pruinose. Calyx calyptrate; shedding early. Calyptra conical, 2 times as long as hypanthium or 3 times as long as hypanthium, as wide as hypanthium; smooth. Hypanthium smooth. Flowers white, or cream.
Fruits: Fruits turbinate or ovoid. Disc flat or raised. Valves exserted. Chaff dimorphic, linear and cuboid.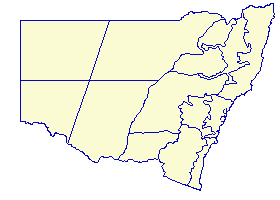 Distribution: W.A.