The Eucalypts
***
Icons
of the
Australian
Bush
EucaLink
A Web Guide to the Eucalypts
Eucalyptus globulus
---
Eucalyptus globulus Labill., Voy. Rech. Perouse 1: 153 (1799).

TYPE: Tasmania, 'Cap. Van Dieman, Nov. Holl.', J. de Labillardiere, Dec 1792 (holo FI, iso BM, G, K, L, W). Cited as "HABITAT in capite Van-Dieman."

Eucalyptus gigantea Dehnh., Cat. Pl. Hort. Camald. ed. 2 20 (1832).

TYPE: Cited as "Nov. Holl. Flor. Oct. Nov." holo W (fide Maiden, C.R. 2: 250).

Eucalyptus glauca DC., Prodr. 3: 221 (1828).

TYPE: cult. hort. Noisette, 18 Aug 1821 (holo G). Cited as "... (v.v. sine fl. in hort. Noisette.)"

Eucalyptus globulus var. compacta Maiden, Crit. Revis. Eucalyptus 8: 23 (1929).

TYPE: Cited as "... Golden Gate Park, San Francisco (Miss Alice Eastwood), July, 1921)." Bailey's description is considered to be invalid as it is merely a description of the horticultural merits of the tree, and no record exists of a Type specimen having been preserved.

Eucalyptus perfoliata Desf., Tabl. Ecole Bot. ed. 3 408 (1829).

TYPE: Herb. Desfontaines (holo FI). Type: None cited.

Eucalyptus pulverulenta Link, Enum. Hort. Berol. 2: 31 (1822).

TYPE: none cited. Occurrence given as "Hab. in Australia h. T." Link types were destroyed in Berlin (TL2).

Eucalyptus cordata auct. non Labill., ().

Eucalyptus diversifolia auct. non Bonpl., ().

Eucalyptus gunnii-globulus hort. ex Vilmorin, Cat. Vilmorin, Andrieux et Cie. ().

nom. nud.
---
Habit: Tree.
Bark: Bark smooth throughout or persistent on lower trunk, fibrous-flaky with whitish patches ("box"), grey, grey or yellow. Pith glands present; Bark glands present. Cotyledons obreniform (bilobed).
Leaves: Intermediate leaves opposite, ovate to orbiculate, straight, entire, dull grey green, sessile. Adult leaves disjunct, narrow lanceolate or lanceolate, falcate, acuminate, basally tapered, dull, green, thick, concolorous; Petioles narrowly flattened or channelled. Lateral veins prominent, acute.
Inflorescences: Conflorescence simple, axillary; Umbellasters 1-flowered to 3-flowered. Peduncles broadly flattened.
Flowers: Buds turbinate, glaucous. Calyx calyptrate; shedding early. Calyptra hemispherical or rostrate, 1 times as long as hypanthium, as wide as hypanthium; ribbed. Hypanthium ribbed, or rugose. Flowers white, or cream.
Fruits: Fruits globose or turbinate. Disc flat or raised. Valves rim-level or exserted. Chaff dimorphic, linear and cuboid.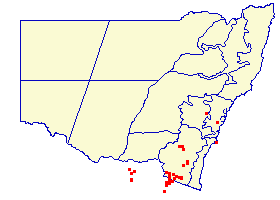 Distribution: Vic., or Tas.