The Eucalypts
***
Icons
of the
Australian
Bush
EucaLink
A Web Guide to the Eucalypts
Eucalyptus marginata
---
Eucalyptus marginata Donn ex Sm., Trans. Linn. Soc. London 6: 302 (1802).

TYPE: cult. Kew, from seed of A. Menzies collection, 1797, W.T. Aiton, 1799 (holo LINN, iso BM). Cited as "Mr Aiton favoured me with specimens of this plant three years ago from Kew Garden. The seeds were brought from Port Jackson."

Eucalyptus floribunda Huegel, in Engl., Fenzl., Benth. & Schott, Enum. Pl. Hueg. 49 (1837).

TYPE: Western Australia, Swan River, Fremantle, K. Huegel 103 (holo W).

Eucalyptus hypoleuca Schauer, in Lehm., Pl. Preiss. 1: 131 (1844).

TYPE: Cited as "... Wuljenup distr. Plantagenet... Herb. Preiss. No. 226." holo S (?); (or MEL?).

Eucalyptus mahogani F. Muell., Fragm. 2: 41 (1860).

TYPE: lecto required from MEL. (2 Oldfield coll, cited by Chippendale, 1 diff. by Maiden, (C.R. 1: 242). Cited geographical detail is "Tum in planitiebus humidis, cum in collibus arenosis Australiae occidentalis occurrens"
---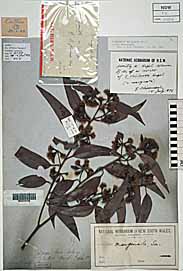 Habit: Tree.
Bark: Bark persistent throughout, stringy, grey or grey-brown or red-brown. Pith glands present; Bark glands present. Cotyledons reniform.
Leaves: Intermediate leaves disjunct early, lanceolate, falcate, entire, dull grey green, sessile. Adult leaves disjunct, lanceolate or broad lanceolate, falcate, acute or obtuse, oblique or basally tapered, glossy, green, thick, discolorous; Petioles narrowly flattened or channelled. Lateral veins obscure, acute or obtuse.
Inflorescences: Conflorescence simple, axillary; Umbellasters 7-flowered to 11-flowered. Peduncles terete or narrowly flattened or angular (to 3mm wide).
Flowers: Buds rostrate, not glaucous or pruinose. Calyx calyptrate; persisting to anthesis. Calyptra elongate acute, 3 times as long as hypanthium, as wide as hypanthium; smooth. Hypanthium smooth. Flowers white, or cream.
Fruits: Fruits globose or ovoid. Disc depressed or flat. Valves enclosed or rim-level. Chaff cuboid.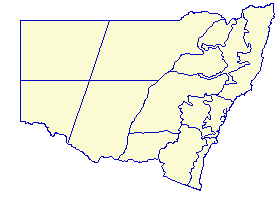 Distribution: W.A.